As Optometry's Charity of Choice, Optometry Giving Sight offers an unprecedented opportunity for optometrists to play a significant leadership role in eliminating uncorrected refractive error by the year 2020.
So what is Optometry Giving Sight and why is it optometry's charity?
Three of the key international organisations involved with uncorrected refractive error are the World Optometry Foundation (WOF), the International Centre for Eyecare Education (ICEE) and the International Agency for the Prevention of Blindness (IAPB). In 2003 these bodies came together to found a unique global organisation that would raise funds from the optometry profession, their patients and industry around the world and direct it to projects that focused on the correction of refractive error and the support of those with low vision.
Optometry Giving Sight's ultimate aim, in support of VISION 2020: The Right to Sight, is to fund the elimination of avoidable blindness due to uncorrected refractive error and low vision by the year 2020.
The concept is simple – encourage all optometrists across Australia, North America and Europe to support Optometry Giving Sight by making a financial commitment which is then directed to projects around the world that ensure sustainable, lasting results in three ways:
Eye care service delivery – exams, low-cost eye glasses and low-vision devices;
Human Resources – training of optometrists, eye care personnel and their teachers;
Infrastructure development – establishment and support of vision centres, eye clinics and schools of optometry.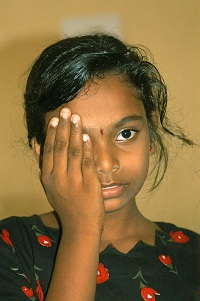 As a global organisation, Optometry Giving Sight has the capacity to raise substantial amounts of money that can help those in desperate need of eye care. It does this by disbursing funds to approved non government organisations such as ICEE and Sightsavers International, who then implement training and service delivery programs in areas of need.
The weight of the Optometrists Association in each country is a vital ingredient in Optometry Giving Sight's success. The national, as well as many state associations, in the US, Canada, the UK and Australia have already endorsed the program.
Thanks to the support of global and national corporations, including Global Founding Patrons, CIBA Vision and the Institute for Eye Research, 85% of donations from optometrists, their staff and patients go directly to projects. For a full list of sponsors visit www.givingsight.org.
By the end of 2009 Optometry Giving Sight will have distributed US$3 million through their partners to help screen and provide basic eye care services to more than 3.5 million people, train 1550 mid-level eye care personnel and create 101 vision centres / optical workshops.
Funds are being directed to programs in Sri Lanka, East Timor, South Africa, Zambia, Malawi, Mozambique, India, Peru, Nicaragua, Mexico, Indigenous Australia and Papua New Guinea.
Visit the Optometry Giving Sight Web site to find out how you can help as an individual or through your practice: www.givingsight.org.