Latin America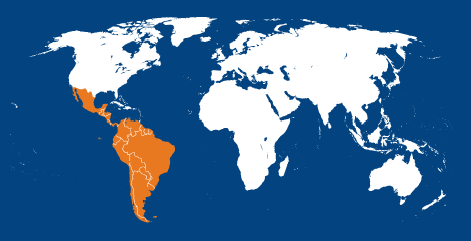 Latin America is probably the best mapped region in the world with regards to blindness and low vision epidemiology, with 16 Rapid Assessment of Cataract Surgical Services (RACSS) and Rapid Assessment of Avoidable Blindness (RAAB) studies in the last 10 years, as well as a very comprehensive review of all the publications available in the last 26 and a half years.
These studies show cataract as the main cause of blindness in the region. Worldwide, cataract, trachoma, onchocerciasis, childhood blindness, and refractive errors are WHO's first priorities. In Latin America, the Pan American Health Organization (PAHO)'s second priority for adults is diabetic retinopathy, with glaucoma being the third; for children it is retinopathy of prematurity (ROP). Although these priorities are based on what we know, there are still many gaps to be filled, primarily in countries in which we have limited or no epidemiological data regarding blindness and visual impairment.
VISION 2020 Workshops Latin America (2016)
Advocating for eye health – An update from IAPB Latin America
Also read: How is Latin America progressing towards Universal Eye Health? A case study.
Regional Chair
Dr Francisco Martínez Castro fmcastro@iapb.org
Regional Strategic Advisors:
Dr. João Furtado jfurtado@iapb.org
Dr. Jaime Soria jsoria@iapb.org
Website
Salud Ocular Comunitaria Revista
News
Member Organizations
Asociación Civil Divino Niño Jesús / CBM / Centro Cristiano de Servicios Médicos / Conselho Brasileiro De Oftalmologia – CBO / Clínica Oftalmológica del Caribe / Fundacion Cinepolis // Fundación Hospital Nuestra Señora de la Luz/ Fundacion Oftalmologica Hugo D. Nano / Fundación Visión / HelpMeSee / IAPB /Instituto de la Vision/ Instituto Mexicano de Oftalmología I.A.P / International Council of Ophthalmology / International Eye Foundation / Light For The World / Lighthouse Guild / Lions Club International / Orbis / Pan American Association of Ophthalmology / Pan American Health Organization / See International / Ulls Del Món / Ver Bien para Aprender Mejor /Vision 2020 / Visualiza / World Health Organization
Country Listing
Argentina / Bolivia / Brazil / Chile / Colombia / Costa Rica / Cuba / Dominican Republic / Ecuador / El Salvador / Guatemala / Honduras / Mexico / Nicaragua / Panama / Paraguay / Peru / Uruguay / Venezuela
Access key documents and resources for Latin America region: