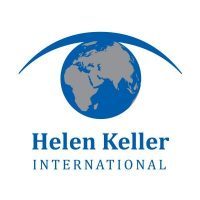 Helen Keller International is a Founding Member of VISION 2020: The Right to Sight.
The mission of Helen Keller International is to save the sight and lives of the most vulnerable and disadvantaged.  We combat the causes and consequences of blindness and malnutrition by establishing programmes based on evidence and research in vision, health and nutrition.
Helen Keller International (HKI) was founded on 11 November 1915 by Lusitania survivor George Kessler as a service to veterans blinded in World War I. Over the years, the agency grew to serve civilians as well as veterans,
became a Braille printing house, and funded many diplomatic visits of HKI changed the focus of programs to the prevention and treatment of blindness. In Indonesia, which partners with HKI to this day, 200,000 children received vitamin A capsules in 1972 to treat and prevent xerophthalmia, the blinding condition of vitamin A deficiency.
In the 1980s researchers discovered that vitamin A supplementation lowers the risk of child mortality, even before clinical signs of vitamin A deficiency are present. HKI played a major role in spearheaded efforts with other international partners, host governments and local million preschool children and is a public health problem in more than 100 countries. Over the years, HKI sustainable, integrated solutions such as homestead gardening, poultry raising, food policy, complementary feeding, and fortification of common foods with essential vitamins.
HKI began onchocerciasis control, the final component of its international programs, in 1992. Also known as river blindness, onchocerciasis is most prevalent in Africa, and is treated through now benefits nearly 60,000,000 people each year. In 2003, the agency enabled the distribution of Mectizan® to over 2.5 million people across Africa, provided 34,000 free pairs of eyeglasses to students in the Oaxaca state of Mexico, and aided nearly 5 million people in Bangladesh, Cambodia and Nepal with homestead food production programs.