Eastern Mediterranean Region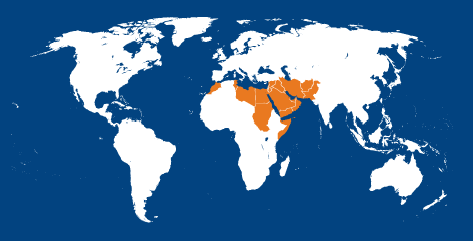 The Eastern Mediterranean Region (EMR) represents 22 countries in the region. These are Afghanistan, Bahrain, Djibouti, Egypt, Iran, Iraq, Jordan, Kuwait, Lebanon, Libya, Morocco, Oman, Pakistan, Palestine, Qatar, Saudi Arabia, Somalia, Sudan, Syria, Tunisia, United Arabs Emirates and Yemen.
The region has a population of about 502.8 million. According to a 2004 WHO estimates, the region has 4.03 million blind people and 12.44 million with low vision. The major causes are cataract and glaucoma. The EMR office activities and its staff are seconded by IMPACT-EMR, a leading NGO in the region who has been sponsoring many regional programs in prevention of blindness and all IAPB-EMR activities. It is chaired by HRH Prince Abdulaziz Ahmad Al Saud. IAPB-EMR organizes annual workshops for national coordinators on strengthening eye care in the region, in collaboration with WHO-EMR. It also provides technical support in eye health and the prevention of blindness to the member countries.
VISION 2020 Workshops 2016 – Eastern Mediterranean
Also read: How is the EMR progressing towards Universal Eye Health? A case study
Regional Chair:
HRH Prince Abdulaziz Ahmad Abdulaziz Al Saud
Contact person at IAPB-EMR Office:
Dr. Mohamad Alamuddin
EMR-IAPB Office
P.O. Box 7947
Riyadh 11472
Saudi Arabia
Tel: +9661 466 1085
Fax: +9661 466 1049
Email: malamuddin@pbunion.org
Regional Co-Chairs:
Dr. Muhammad Babar Qureshi (Co-Chair of Programmes in EMR)
Dr. Adel Abdulaziz Al Rushood (GCC, Yemen, Sudan, Somalia)
Dr. Mohamad Naji Alamuddin (Iraq, Jordan, Lebanon, Syria, Palestine)
Prof. Mohammed Daud Khan (Iran, Pakistan, Afghanistan)
Dr. Ahmed Trabelsi (Morocco, Tunisia, Libya, Egypt, Djibouti)
Website:
Country Listing
Afghanistan / Bahrain / Djibouti / Egypt / Iran (Islamic Republic of) / Iraq / Jordan / Kuwait / Lebanon / Libya/ Morocco / Oman / Pakistan / Qatar / Saudi Arabia / Somalia / Sudan / Syrian Arab Republic / Tunisia / United Arab Emirates / Yemen
Access key documents and resources on Eastern Mediterranean region: