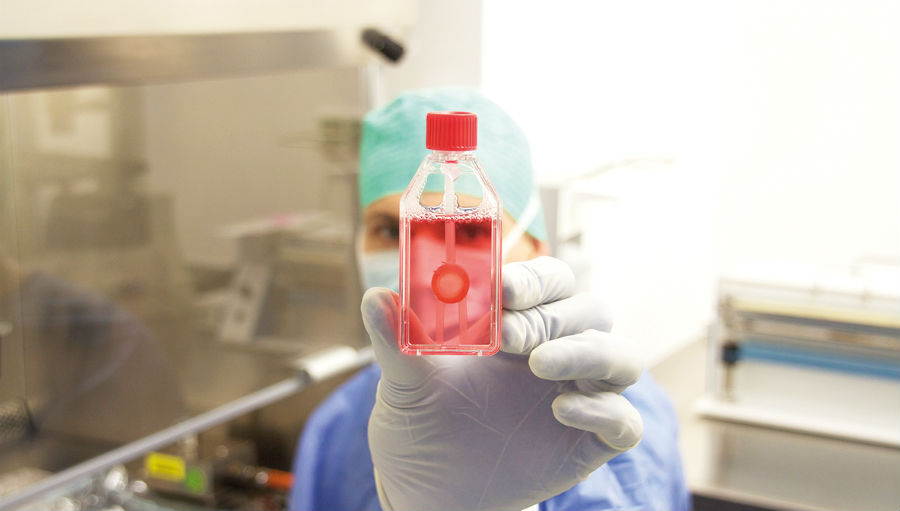 March 2020, Hannover, Germany – Even in times of the SARS-CoV-2/COVID-19 pandemic, the donation and transplantation of tissues such as the cornea of the eye can be carried out. With an adapted donor screening, further precautions and the commitment of about 80 employees, the German Society for Tissue Transplantation (DGFG) maintains the supply of safe tissue transplants for patients in Germany – because even now, eyesight must be saved!
Careful donor screening
In principle, a comprehensive medical history is carefully collected from all potential tissue donors. This anamnesis has been extended to include information on travel activities and stays in COVID-19 risk areas according to the guidelines of the Robert Koch Institute, the German federal government agency and research institute responsible for disease control and prevention. Also contacts with COVID-19 infection and suspected cases are surveyed. If potential tissue donors show obvious symptoms of respiratory disease, no donation will be made as a precaution. Potential tissue donors with a confirmed SARS-CoV-2 infection or with contact to infected persons are excluded according to the guidelines of the German Federal Institute for Vaccines and Biomedical Drugs (Paul-Ehrlich-Institute).
The risk assessment of potential donors is documented and is subject to the multiple-eye principle: If abnormalities are found in the medical history, an assessment is made by several doctors and coordinators. Naturally, the donation process is continuously adapted to current developments.
Testing of donor tissue
According to the Global Alliance for Eye Banking (GAEB), there is no current evidence that corona viruses can be transmitted by blood transfusions or tissue or cell transplants (as of 3 February 2020). The Paul-Ehrlich-Insitute also comments on the safety of tissue preparations: a transmission of respiratory viruses by implantation, transplantation, infusion or transfer of human cells or tissues has not been described so far; no cases of transmission of SARS-CoV-2 via tissue transplants have been reported at present (as of 20 March 2020).
Therefore, there is currently no precautionary SARS-CoV-2 testing for corneal donations after cardiovascular death. Nevertheless, blood samples from corneal donors are frozen and stored so that subsequent testing would be possible as soon as valid blood tests for SARS-CoV-2 are available.
Tissue donation network structure helps with structural challenges
Over 100 donor hospitals and 13 tissue banks are involved in the DGFG network. From 31 locations, the coordinators of the DGFG work nationwide for tissue donation. If donations cannot be made at one location due to the current incidence of infection and organizational consequences in the hospitals, other locations are compensating for this deficit. If a tissue bank fails in the coming weeks, donations are diverted to other tissue banks for processing and storage.
Home office solutions and changing attendance times have been set up at the donation sites, in the DGFG tissue banks and in the administration at the headquarters in Hannover. These measures are intended to prevent entire regions and departments from having to shut down in case of quarantine or infection of employees.
Cancellation of tissue transplants challenges donation
For now, corneal transplantation is usually classified as elective surgery and as such is currently cancelled by the majority and at short notice. This poses, planning and economic challenges for corneal transplantation in particular. The cornea is the most frequently transplanted tissue worldwide. In Germany alone, between 7,000 and 8,000 corneal transplants are performed annually to maintain or restore the vision of patients.
However, corneal transplants have a limited shelf life. If no transplantation takes place within 34 days, transplants must be discarded. The German Society for Tissue Transplantation is currently making every effort to adapt corneal transplantation to the current reduced demand and at the same time to ensure emergency supply of transplants. Also, for ethical reasons, we want to prevent tissue from being discarded.
Pressure on the non-profit organization of tissue donation
For the DGFG as a non-profit organization and its employees, the corona crisis also means economic challenges. The costs for the donation, processing, storage and procurement of tissue transplants are covered by a fixed sum per transplant payed hospitals to the DGFG. The health insurance companies in turn reimburse the clinics for their expenses. If transplants do not take place, these lump sums are waived and thus also the refinancing of tissue donation and processing is eliminated. There is no direct financial support for tissue donation from the German state and health insurance companies.
In addition, charitable organisations in Germany are only allowed to set aside financial reserves to a limited extent. As a result of the Corona crisis, the DGFG – like many other non-profit organizations in this country – is under massive financial pressure.
While all expenses are suspended that are not absolutely necessary for operations, reducing the working hours of all employees helps to lower personnel costs. The financial losses that employees have to cope with by reducing their working hours by 50 to 70 percent are offset to a certain extent in the German social security system by short-time work compensation.
We are proud of the unflagging commitment of our coordinators, doctors and employees in allocation and administration. Despite personal, financial disadvantages, the staff shows solidarity and is determined to stand up together for tissue donation.
The structure of the DGFG network allows resilience in the current situation. Nevertheless, we hope that a certain degree of stability and "everyday life" in the crisis will soon come about.