Held twice a year, the Seeing is Believing (SiB) Fast Start fundraising dinner is a key event on the Standard Chartered employee fundraising calendar.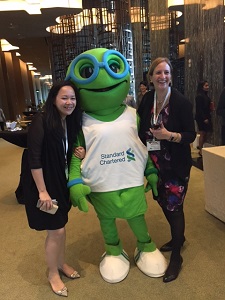 Fast Start is Standard Chartered's flagship leadership programme for senior-level new joiners. It is sponsored by the Bank's Group CEO and hosted in Singapore over three days. The programme brings together a faculty of the Bank's management team leaders to provide context on strategy, history, culture and values.
It is a critical experience to accelerate knowledge of Standard Chartered and to help senior employees build a global network of peers from across the Bank's businesses and geographies.
The Fast Start SiB fundraising dinner is always a highlight of the three-day programme and the appearance of Sir SiB (the programme's trusty mascot) usually elicits lots of smiles and fun photo opportunities.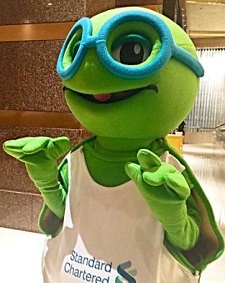 This year's dinner was particularly memorable as the chair of the SiB Programme Committee, Mark Julien, shared his personal 10-year journey volunteering for SiB and Standard Chartered's CEO for Taiwan, Anthony Lin, shared Taiwan's successful locally developed project to promote employment for the visually impaired.
The project recently won the Best Practice of 2017 Zero Project Awards organised by the Essl Foundation in Austria.
The April dinner was attended by about 120 new employees and not only did it raise awareness about SiB but it also raised a record amount of more than USD13,000 as employees dug deep into their pockets and hearts to give generously throughout the evening.