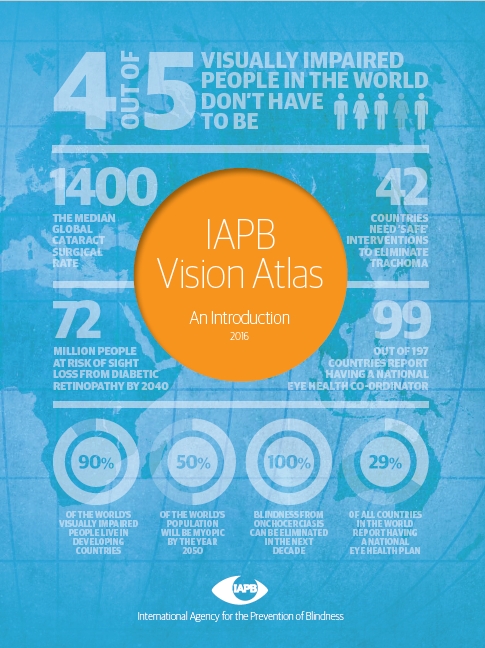 The IAPB Vision Atlas website will be launched at the 10GA Opening Ceremony on 27 October in Durban by Peter Ackland, IAPB CEO. The Opening Ceremony will be graced by the presence of President Ellen Johnson Sirleaf and Dr Aaron Motsoaledi, the National Minister of Health, South Africa among other dignitaries, and over 1000 delegates attending 10GA.
The IAPB Vision atlas brings together data from the Vision loss Expert Group (VLEG) and the Global Action Plan (GAP) Indicators, collected by IAPB. It also includes commissioned articles on eye conditions and some really useful web tools to explain eye conditions to people. The IAPB Vision Atlas will be web-only in 2016; we will also publish a printed version in 2017 with updated VLEG and GAP data.
The latest GAP indicator data shows up interesting trends, for example: the global median Cataract Surgical Rate (CSR) is 1400. Developed countries have a CSR that is 13 times the rate in sub-Saharan Africa. We now have the VLEG data maps in an updated format, where it should be more accessible and easy to use. The maps include VLEG data from 1990 to 2010. Next year, they will release data up to 2015 and will include additional features like causes, near-vision impairment and even projections till 2050.
The Vision Atlas has a clear call to action: Eye Health should be 'mainstreamed', affordable, equitable and inclusive.
You can access the IAPB Vision Atlas website on the 27th at 5PM South Africa time, by visiting this link: http://atlas.iapb.org