The Liverpool Football Club (LFC) will partner with Seeing is Believing again for the "Perfect Match" this year too. On Tuesday, 10 February, 8pm GMT, LFC will once again swap the logo on the first team home shirt to "Seeing is Believing" during the game against Tottenham Hotspur. This is the fourth consecutive year in which the club has joined forces with its main sponsor Standard Chartered Bank, to generate support and funds for Seeing is Believing.
In the run-up to the match, Liverpool players Steven Gerrard, Adam Lallana, Simon Mignolet and Mamadou Sakho trained with members of Merseyside Blind FC, which included a skills and drills session and a penalty shoot-out. During the session all players wore blindfolds and were guided by the coaching staff.
The LFC team will switch the Standard Chartered logo on their shirt for 'Seeing is Believing' when they play Tottenham Hotspur in the Barclays Premier League on Tuesday, February 10 – the fourth time this logo swap has taken place to help raise awareness and funds for 'Seeing is Believing'.
A week-long auction on eBay will follow the game, where five limited edition player shirts from the match will be signed and available for fans to bid on to raise money for Seeing is Believing. All donations will be matched by Standard Chartered, making this fixture the 'Perfect Match', with the Club and its sponsor coming together to support an important cause.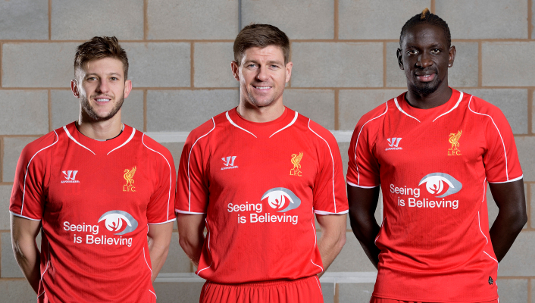 Read more here: Perfect Match 2015