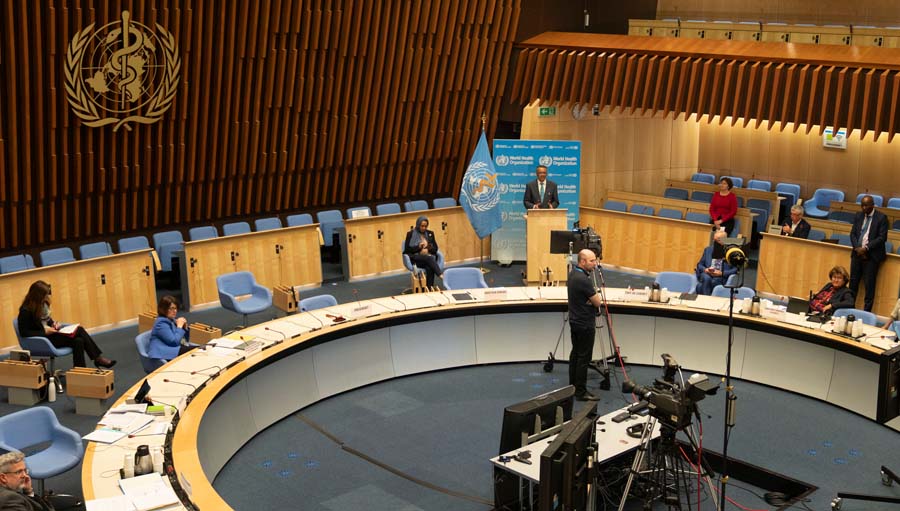 Countries have agreed today to adopt a new resolution on vision in an effort to reach the 1 billion people worldwide who do not have access to vital eye care services.
More than 1 billion people are living with blindness or a vision impairment because they do not have access to basic services as simple as a pair of glasses.
The resolution cements the World Health Organization's global strategy on vision set out in its 'World report on vision' launched by WHO Director-General, Dr Tedros Adhanom Ghebreyesus last year.
The World Report on Vision highlighted that:
More than 2.2 billion people have a vision impairment or blindness, of whom at least 1 billion people do not have access to the services they need
This is also an issue of fairness because the burden of poor eye health falls unequally on poorer countries and underserved populations including people in rural areas, for those with low incomes, women, older people, people with disabilities, ethnic minorities and indigenous populations.
Poor vision and eye health needs are expected to increase substantially in the coming decades, with the number of people living with blindness projected to triple by 2050
The World Health Assembly (WHA) resolution urges countries to implement the recommendations of the World Report on Vision. Sponsored by over 40 countries, the resolution asks all governments to integrate "people-centred eye care" within national health systems. (Also read – WHA73: Our challenge for a new decade).
The Minister of Health, Australia, The Hon Greg Hunt, welcomed the adoption of the resolution, noting that it is an "important step in ensuring eye health is integrated in health systems as part of universal health coverage worldwide." The Minister also acknowledged that the support of the resolution "sends a strong signal of worldwide interest in progressing these important public health issues. We now stand ready to work with the international community to take these commitments forward."
The Minister of Health of the Republic of Indonesia, H.E. Ltg. (Ret.) Terawan Agus Putranto said, "We cannot continue to live in a world where one billion people are disadvantaged due to visual impairment or blindness. With this resolution the international community is saying loud and clear that we will not let our citizens be left behind because of lack of access to vision care."
Bob McMullan, President of the International Agency for the Prevention of Blindness (IAPB), the peak body for eye health organisations worldwide, said "Today's resolution demonstrates the increased recognition among countries of the importance of eye health for health systems and for sustainable development. The commitment from all 194 countries will go a long way to bolster eye care within nations – now it is time to turn this political goodwill into action".
The resolution comes at a time when eye care services are beginning to resume after months of suspension due to COVID-19.
Peter Holland, Chief Executive of IAPB adds "COVID-19 has posed significant challenges for eye health and the sector is currently facing a significant backlog of patients. It is therefore critical that eye health is properly integrated within health systems in order to address the challenges ahead and to avoid irreversible progression of eye diseases". More than ever we now must strengthen intersectoral collaboration to address global challenges. Access to clean water for example, is not only relevant to fight the pandemic, but also to reduce the spread of neglected tropical diseases such as trachoma.
The resolution asks the WHO Director-General to increase support to countries in implementing the recommendations of the World Report on Vision; support the creation of a global research agenda for eye health; and to work with Member States to develop global targets on eye health for 2030 at the 74th World Health Assembly in 2021.
Welcoming the resolution, the Caroline Harper (Sightsavers), Ian Wishart (The Fred Hollows Foundation), Babar Qureshi (CBM Director of CBM's Eye health initiative), Rupert Roniger (Light for the World) from of some of the world's leading eye health NGOs said "The vast majority of people with vision impairment live in low- and middle-income countries, who often lack the resources and strategies to address eye health conditions. The WHO's increased support will mean that those countries will be better able to deal with the rapidly increasing need for eye care services".
Alarcos Cieza, who leads the vision department at the WHO, said "Eye health is critical to achieving the WHO's triple billion goals and Universal Health Coverage." She added that "the resolution gives life to the World Report on Vision and will guide country action on eye health for the next decade".
Ian Wishart, CEO, The Fred Hollows Foundation notes that, "this resolution highlights the urgent need to address barriers in access to eye care, particularly for the poorest and most disadvantaged in our communities who are often left behind – women and girls, people with disability, and people living in hard to reach places. Today, world leaders have committed to integrating eye health into the mainstream health agenda and have recognised the importance eye health can play in achieving the Sustainable Development Goals. The resolution redefines eye health as a genuine global health problem shifting the narrative of people affected from millions to billions and notes the situation is set to worsen with current trends, particularly in light of COVID-19."
"More than one in four of us globally have impaired vision, including 36 million who are blind. Half of those – around one billion people – have a condition that either could have been prevented or could still be treated. But for in many parts of the world people can't access or can't afford the eye care services they need. This new ratification is a huge step forwards  which gives new momentum for countries to provide comprehensive, quality eye care services as part of their health systems," said Imran Khan, Sightsavers' Global technical lead for Eye Health. "More than one in four of us globally have impaired vision, including 36 million who are blind. Half of those – around one billion people – have a condition that either could have been prevented or could still be treated.  But in many parts of the world people can't access or can't afford the eye care services they need."
Geoffrey Wabulembo, Medical Director for Eye Health & NTDs, Light for the World said, "We celebrate the WHA resolution on eye health! The resolution takes our re-engagement with governments to revive and expand access to eye health services to a new level. Too many visually impaired and blind people are waiting for the eye care they deserve but the resolution should give us the impetus to do more and for many more."
Dr M. Babar Qureshi, Director Inclusive Eye Health and Neglected Tropical Diseases, CBM said that "CBM is delighted that the World Health Assembly adopted the resolution on 'integrated people-centred eye care', one of the key recommendations last year's WHO World Report on Vision for addressing blindness and visual impairment in the years to come. It is the sixth resolution supporting eye care since 1998 and comes in time to guide the eye health sector in the post Vision 2020 area until 2030. The importance of the resolution cannot be overemphasized, as it not only commits WHO Member States to implementing the recommendations of the World Report on Vision, but also directs the WHO to provide guidance and technical support. CBM is fully committed to working towards the aims of the resolution, globally, regionally and with our partner countries."