The L'OCCITANE Foundation is involved in two fields of action: the support for the visually impaired and the promotion of women's entrepreneurship in Burkina Faso. With an average annual budget of €1,000,000, it supports every year around 15 projects.
Supporting the Visually Impaired
As L'OCCITANE is a sensorial brand, its Foundation works with the senses and has chosen to support the visually impaired. In France, it focuses on their professional integration through the creation and development of adapted professional training. In 2010, it established as well Grants for the Training and Employment of the Visually Impaired.
The L'OCCITANE Foundation also participates in the fight against avoidable blindness by supporting different NGOs in Burkina Faso. Its main partners are Helen Keller International for the prevention of trachoma and Light for the World for the development of better eye care services through training and equipment in public hospitals. With Vision Aid Overseas and A Better Life Foundation, the project aims to build a Vision Center in the public hospital of Koudougou and the Foundation just launched a project with Medicus Mundi for screening campaigns and surgeries in schools.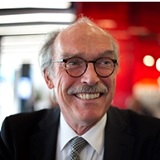 The L'OCCITANE Sight Award
To go further into its involvement, the L'OCCITANE Foundation presents a 50,000€ award once every 2 years to an ophthalmologist for his research work and his projects in the fight against avoidable blindness in the developing countries.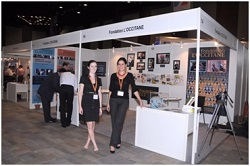 The first L'OCCITANE Sight Award was given to the professor Volker Klauss (pictured above right) during the SOE (Société d'Ophtalmologie Européenne) congress in 2011 to reward him for his involvement and allow him to continue his actions in several regions of Africa (research on glaucoma in Malawi, on diabetic retinopathy in Zambia, for summer schools in Nairobi, etc.).
The next award has been promoted thanks to the partnership with the IAPB during the 9th General Assembly in Hyderabad in September 2012 (see L'OCCITANE 9GA stand above left). It will be presented in partnership with the ICO (International Council of Ophthalmology) during the WOC 2014 Tokyo.
Learn more about the criteria and apply now for the next award on the Foundation's website!