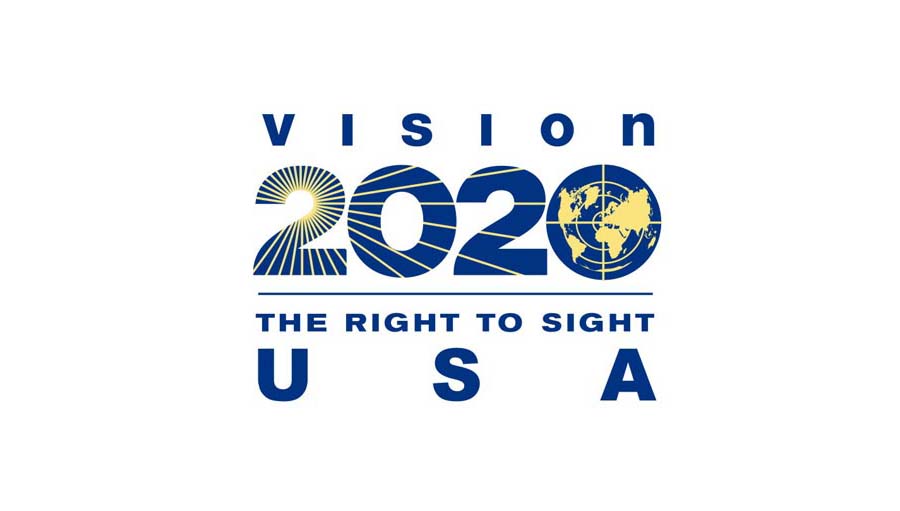 Mitchell Brinks, Chair of VISION 2020 USA, writes about the plans and impact of the organisation in North America. This interview is part of the Vision Excellence Awards – do send in your nominations. 
What was VISION 2020 USA's impact on eye care and service delivery in USA and the region?
Vision 2020 USA organized members nationally in 2019 to develop a consensus statement on the state of vision and eye health and the U.S. and the main priorities for growth of eye care in the U.S.  This statement was shared with the main U.S. federal government Health and Human Services representative, also known as "the nation's doctor", the U.S. Surgeon General.  This consensus statement was well-received, and led to a meeting of Vision 2020 USA members with the U.S. Surgeon General and national leaders in health care. Vision 2020 USA advocated for a major national report to coordinate federal, state, and local government efforts and engage the stakeholder community and others to improve vision and eye health in the U.S. Vision 2020 USA is now working with the U.S. Surgeon General's office to develop strong and evidence-based measures to deliver to the U.S. population.
Vision 2020 USA also delivers a congressional briefing on vision and eye health to the main U.S. legislative bodies in conjunction with World Sight Day. The purpose of this briefing is to educate legislators and others in Washington DC, and advocate for better vision and eye health in the U.S. A leading priority of Vision 2020 USA is to strengthen communication among stakeholder organizations, and support their work in the way most suitable to their guidance.
One of VISION 2020's key role was to bring eye care to the attention of policy holders – can you think of one or two key politicians from the region who began to take eye care seriously thanks to our advocacy?  
Vision 2020 USA advocates for eye care with federal agencies to promote greater investment in population vision health research, education, and policy across the country. Through the annual World Sight Day briefing in Washington DC, Vision 2020 USA is also able to put current issues in eye care before many legislators and career service officials. Representative Steve Stivers of Ohio, a Co-Chair of the Congressional Vision Caucus, has been especially supportive of eye heath and ageing initiatives in the Congress.
VISION 2020 also brought people together. Can you tell me how it brought the different eye care organisations and professional bodies together over the years?
Since its founding in 2009, more than 50 professional academic and research organizations have become members of Vision 2020 USA.  In 2019, 13 new organizations in the field of vision and eye health joined Vision 2020 USA.  Vision 2020 USA also exhibited in a virtual booth at Prevent Blindness's 2020 Focus on Eye Health National Summit, where we engaged with 61 event participants, some of whom we hope will join the coalition. 2019's World Sight Day congressional briefing drew national leaders including the National Eye Institute's Acting Deputy Director Mary Frances Cotch, PhD, along with Communications Director Maria Zacharias and the Congressional Liaison office's Nora Wong, MPH.
The year 2020 will see further growth of Vision 2020 USA into a formalized legal entity in the U.S., supporting sustainability and solidifying our foundation to serve our member organizations more effectively.
What do you think was V2020's biggest achievement, in the North American region and globally?
Leaders of our member organizations, domestic and international came together in 2019 to sign a joint letter to the U.S. Surgeon General which included a consensus statement of the group's vision priorities for the future in the U.S.
Signing members included:  American Academy of Ophthalmology, American Academy of Optometry, American Optometric Association, The Association for Research in Vision and Ophthalmology, Brien Holden Vision Institute, OHSU Casey Eye Institute, Dana Center for Preventive Ophthalmology, Dean McGee Eye Institute, Eye Bank Association of America, Hellen Keller International, Himalayan Cataract Project, Illinois College of Optometry, International Agency for the Prevention of Blindness North American Region, International Eye Foundation, Lighthouse Guild, Lions Clubs International, National Alliance for Eye and Vision Research, Orbis International, Prevent Blindness, SEE International, SEVA Foundation, University of Utah John A. Moran Eye Center, University of Rochester Medical Center, Vision Impact Institute, VisionSpring, and Volunteer Optometric Services to Humanity.
The work of Vision 2020 USA to support our member organizations in this collaboration is one of our proudest achievements.