Vision Aid Overseas celebrated the launch of its 30th Anniversary year on Monday 9th February at an event hosted in the beautiful surroundings of The Swan at The Shakespeare's Globe in London.
Over 90 guests of the charity turned out to celebrate the milestone and to enjoy the company of Vision Aid Overseas' staff, volunteers and Trustees.
Guests included two Honorary Vice Presidents of the charity, Brian Ellis MBE and Dame Mary Perkins, founder of Specsavers Opticians, and a number of senior representatives from international optical associations and the UK optical industry.
The last three decades have seen significant achievements for Vision Aid Overseas. From its humble beginnings as a small group of volunteer opticians who established the charity in 1985, it has gone on to help over 1 million people in 26 countries gain access to life changing eye care through the provision of sight tests, training eye care workers and establishing Vision Centres and programmes throughout the developing world.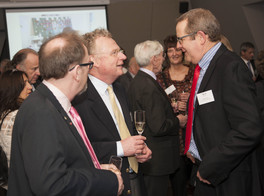 Executive Director of Vision Aid Overseas, Nigel Wilson, commented: "It has been a fantastic event and a great opportunity to look back at our past achievements and the work we have done to help people living in poor communities around the world to escape visual impairment. We would like to thank all our supporters past and present for the significant difference they have made to these communities – without them none of our work would have been possible. Vision Aid Overseas' focus now is to look forward to the next 30 years and to proactively continue our mission of fighting poverty through the power of good vision."
Vision Aid Overseas is aiming to raise £150,000 of additional donations in 2015, to help an additional 30,000 people in developing countries gain access to life changing eye care services. Volunteers will be taking part in a number of different fundraising activities and events throughout the year including the London Marathon in April, the British 10K London Run in July and the Great Ethiopian Run in November.