Africa Region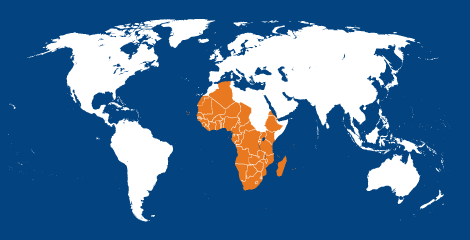 Sub-Saharan Africa Region is made up of 46 different countries, with 5 distinct sub-regions (Southern Africa, Central Africa, Eastern Africa, English West Africa, French West Africa, and East Africa). There are three predominant languages, English (50%, Portuguese (11%), and French (39%). This is a region with 11% of the world population, but with 25% share of the world disease burden and less than 2% of its health workforce.
As a region, in relative terms to the size of the respective population, Africa has proportionately 73% more blind and visually impaired people than any other region. 80% of these are due to causes that are either preventable or curable . No less than 30 out of the 46 countries in this region rate amongst the world's least developed and half of its population (up to 70% in rural areas) live on less than a dollar a day. Today it is also the region where "out of pocket" expenditure to meet health costs, is one of the highest in the world, much higher than government expenditure.
The IAPB Africa team manages the 'IAPB Africa Database' and runs regular updates from the IAPB Africa website: http://www.iapbafrica.co.za
Developing eye health competencies – An update from IAPB Africa
Also read: How is Africa progressing towards Universal Eye Health? A case study.
Regional Chair:
Regional IAPB staff:
Country Listing
Algeria / Angola / Benin / Botswana / Burkina Faso / Burundi / Cameroon / Cape Verde / Central African Republic / Chad / Comoros / Congo / Côte d'Ivoire / Democratic Republic of the Congo / Equatorial Guinea / Eritrea / Ethiopia / Gabon / Gambia / Ghana / Guinea / Guinea-Bissau / Kenya / Lesotho / Liberia / Madagascar / Malawi / Mali / Mauritania / Mauritius / Mozambique / Namibia / Niger / Nigeria / Rwanda / Sao Tome and Principe / Senegal / Seychelles / Sierra Leone / South Africa / South Sudan / Swaziland / Togo / Uganda / United Republic of Tanzania / Zambia / Zimbabwe
Access key documents and resources on Africa region: