South East Asia Region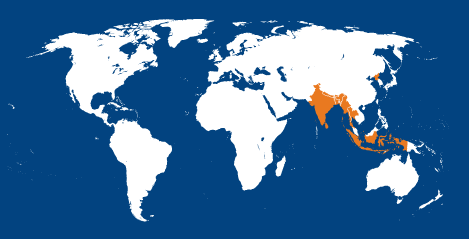 IAPB South East Asia Region comprises a total number of 11 countries – these are Bangladesh, India, Indonesia, Bhutan, Maldives, Myanmar, Nepal, Sri Lanka, Thailand, Democratic Republic of Korea and Timor Leste. The region has a population of more than one fourth of the total globe, and one third of the world's blind people live in this region. Half of the world's 1.5 million blind children also reside in the region and around 110 million have low vision and visual impairment.
Prevalence of blindness (above 30 years of age) within the region is higher in Bangladesh, Indonesia and in some states in India (1.5%). The lowest is in Thailand and Sri Lanka (below 0.5%).
Cataract, childhood blindness, refractive error and low vision, glaucoma, and diabetic retinopathy are the leading causes of blindness. On average throughout the region there is one ophthalmologist for around 200,000 people, and one mid level eye care personnel for around half a million of the population. Most of the eye care personnel are located in cities and towns; on the contrary, around 75% of the population lives in rural areas, thus making access to eye health services a key challenge. IAPB regional presence is key to ensure greater coordination and collaboration between major stakeholders such as Government, WHO, INGOs and local NGOs.
VISION 2020 Workshops South East Asia (2016)
VISION 2020 Advocacy Workshops in South East Asia (2014)
The road-map towards the Global Action Plan – An update from IAPB South-East Asia
Also read: How is South East Asia progressing towards Universal Eye Health? A Case study
Regional Chair
Dr. Taraprasad Das – tpd@lvpei.org
Regional Coordinator
Mr. Yuddha Dhoj Sapkota – ysapkota@iapb.org
Country Chairs
Country Listing
Bangladesh / Bhutan / Democratic People's Republic of Korea / India / Indonesia / Maldives / Myanmar / Nepal / Sri Lanka / Thailand / Timor-Leste
Access key documents and resources for South East Asia region: