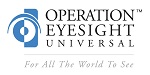 Operation Eyesight is dedicated to eliminating avoidable blindness for those most in need. Since 1963, we have brought sight-saving treatment to millions of people, while preventing blindness for millions of others. Today our work is focused in South Asia (India and Nepal) and sub-Saharan Africa (Ethiopia, Ghana, Kenya, Liberia and Zambia).
The right to sight is a fundamental human right. Vision impairment is both a cause and consequence of poverty. Preventing avoidable blindness and vision impairment has a crucial role to play in the reduction of poverty and in the overall effort to achieve the Sustainable Development Goals.
Operation Eyesight addresses the root causes of avoidable blindness and advocates for the integration of eye care into primary health care systems. Our model of Hospital-Based Community Eye Health empowers communities to take ownership over their health care needs, strengthens the capacity of local partners, and uses evidence-based practice models of service delivery to inform the development of sustainable eye health systems and put eye health onto heath policy agendas. We work in partnership with local governments, medical professionals and community development teams, building essential resources to provide access to quality, comprehensive health and eye health services for all.
With attainment of the right to sight, our beneficiaries have increased access to education and better health outcomes, and can contribute more to their communities economically, socially and culturally.
http://www.operationeyesight.com