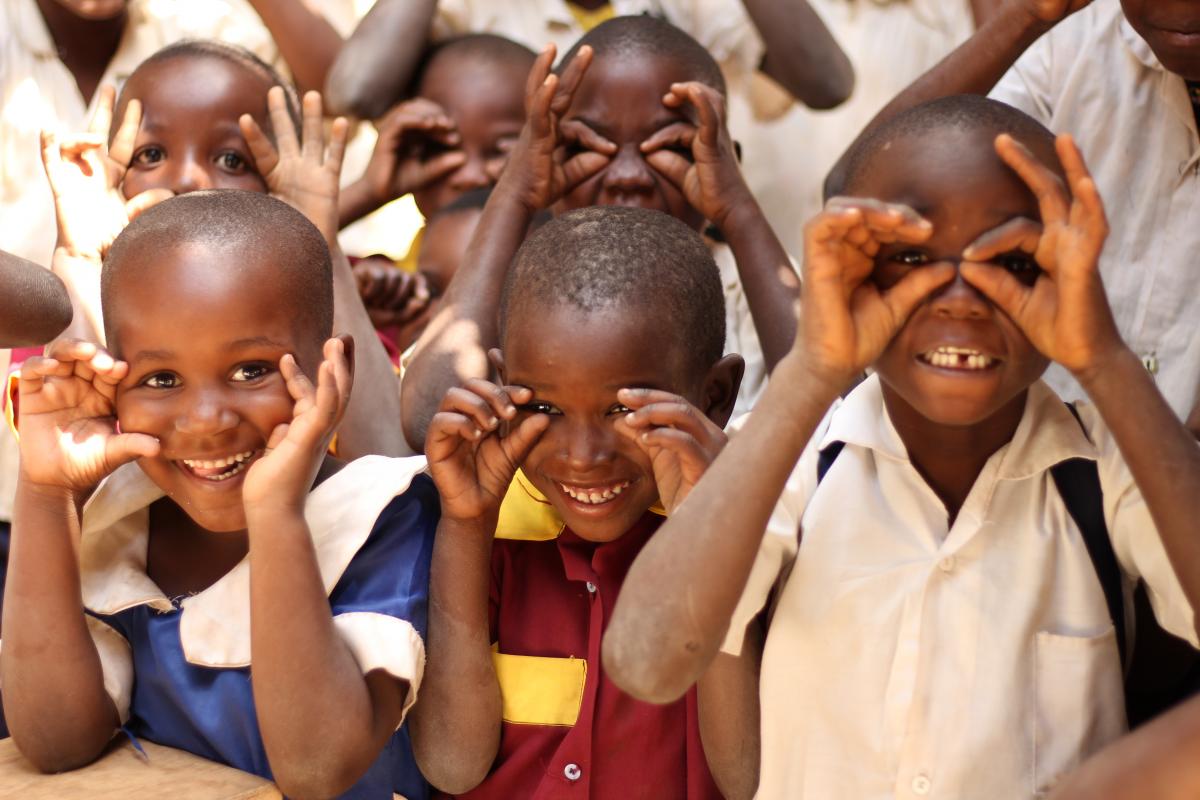 MEDIA RELEASE
Four year focus on child eye health – Uganda celebrates the achievements
Kampala, Uganda, 15 December 2016: Recent celebrations mark the successful completion of an extensive child eye health program in Uganda. The number of children screened across age groups exceeded the target by more than 2.5 times reaching 1,672,945 children. Many of these children received spectacles, low vision devices, treatment or referrals for further care where necessary, which has assisted in strengthening the service delivery pathways across the districts.
Launched four years ago in 2012, the East Africa Child Eye Health programme, funded by Standard Chartered Bank under the Seeing is Believing (SiB) initiative, has been working to improve the quality of lives of children aged 0-15 years, and has been influential in delivery of eye care services, workforce development, policy change and creation of infrastructure.
Professor Kovin Naidoo, CEO, Brien Holden Vision Institute spoke about the impact of child eye health. "Imagine a child who leaves home and despite all the barriers of poverty, is able to get to school. On an empty stomach, maybe walking more than two kms to get there, but when eventually arriving they are unable to see the chalkboard and find another barrier in this continuum of poverty."
"Education helps break into generational poverty. And good vision is enabling that process which is why we know child eye health is a critical part of school health. The success of the collaborative work achieved by the East Africa Child Eye Health programme, also active in Tanzania and Kenya, will translate into lasting eye care outcomes for Uganda," he concluded.
The SiB porgramme has focused strongly on integrating child eye health in the policies and work with the government departments. Through continuous engagement in Uganda of both Ministries of Health and of Education to support the programme, policy documents developed include a School Health Policy, the Eye Health Advocacy Strategy, Clinical Guidelines for Eye Health and Eye Health Management Information System.
Another achievement was consolidating the sustainable future of eye care services in Uganda by increasing the available eye care workforce through education and training. During the programme 3820 government workers across the employment spectrum were trained. This includes school teachers, primary health workers, refractionists, ophthalmic staff, eye clinic staff, village health teams and young members of the community, all of which have the direct capacity to increases access to services through provision.
A further area of focus was the strengthening health systems by cross-pollination of existing services. We established a referral system between schools and health facilities so that teachers could refer children to eye care workers. We also strengthened the referral paths from health units in the districts to the secondary and tertiary level for the children who required specialised services, such as surgery.
Naomi Nsubuga, Sub Regional Manager for East Africa, for the Institute spoke on the success of the collaborative approach. "The results of the East Africa Child Eye Health programme are due to concerted efforts by many partners and not possible without the collective knowledge and experience, ensuring these initiatives are designed and implemented appropriately. The diligence of many committed people have been instrumental in the success of this programme. I thank every one of them," she said.
Creating infrastructure and providing equipment is another programme output which has built long term sustainability after the close of program. Four district eye clinics have been renovated or fitted out with new facilities and equipment. This includes diagnostic equipment for eye health, refraction and low vision as well as spectacle frames, lenses and low vision devices.
Read more at the Brien Holden Vision Institute website
Photo Credit: Choi One for the #StrongerTogether photo competition
Read about Seeing is Believing launches flagship East Africa Child Eye Health project