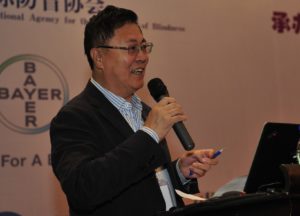 China's National Health and Family Planning Commission presented a new 5-year National Plan for Eye Health in late October, which calls on government agencies and partners to work together and extend action in the lead-up to the 2020.
The plan is a product of extensive consultation and drafting by key experts active in blindness prevention in China. It provides broad strategic direction and calls on provincial and local level authorities to develop appropriate plans with timelines and tasks divided.
Enhancing cooperation, improving referral networks and strengthening systems is a strong theme in the document, which will be reviewed and assessed regularly. The national eye health plan is aligned with China's existing 5-year national development agenda and Universal Eye Health: A Global Action Plan 2014-19, which was adopted by the World Health Assembly in 2013.
China's national eye health plan recognises the importance of county-level hospitals, particularly for cataract surgery. Currently, 90% of county medical institutes have capacity to conduct cataract surgery independently. Additional resources will be required to maintain and increase this capacity in the coming years.
Cataract remains the leading cause of avoidable blindness in China. The plan has set a target to increase the national Cataract Surgical Rate to more than 2000 by the end of 2020, and emphasises the need to focus on poor patients in rural areas.
The plan calls for the expansion of optical and optometric services in China and for a focus on refractive error in children. In many Chinese cities, rates of myopia among school-aged children are high and research has urged new public health solutions to prevent and treat refractive error. Action on diabetic eye disease, retinopathy of prematurity (ROP) and low vision is also part of the plan.
For more information, download an English translation of China's National Plan for Eye Health
The blog originally appeared on IAPB Western Pacific and has been reproduced.