Statement from the Chair on behalf of VISION 2020 UK Trustees
An Extraordinary General Meeting of the member organisations of VISION 2020 UK took place on 30th May. Members voted in favour of the dissolution of VISION 2020 UK and the transfer of net assets to Vision UK.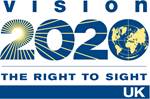 Vision UK will bring together the work of VISION 2020 UK, the UK Vision Strategy & England Vision Strategy teams, and will work collaboratively with members and partners from across the eye health and sight loss sector to deliver transformational change.
Matt Broom, who will be taking over as acting CEO of VISION 2020 UK until the work of the organisation is transferred to Vision UK, said "We will be working to ensure that this change offers the greatest degree of continuity for members. VISION 2020 UK will be dissolved but key activities, especially collaborative work with members, will continue."
It is intended that Vision UK will launch in the autumn of 2017.
To read the original news item: http://www.vision2020uk.org.uk/statement-chair-behalf-vision-2020-uk-trustees-2/