The StrongerTogether photo competition we run in partnership with Bayer saw some moving submissions from around the world; each with a story to tell. We will be sharing some of these stories on our blog over the coming weeks. The third in the series is about Peter Datjin Burarrwanga , an elder and leader of the Gumatj (Burarrwanga), an Aboriginal Australian clan. The pictures and inputs have been provided by Daniel Jesus Vignolli, on assignment with The Fred Hollows Foundation. Thank you Daniel!
Peter Datjin Burarrwanga is a proud father, grandfather, a ceremonial leader and a world-renowned artist. Through his exquisite, detailed paintings he passes on indigenous customs to the next generation and maintains Gumatj law and culture.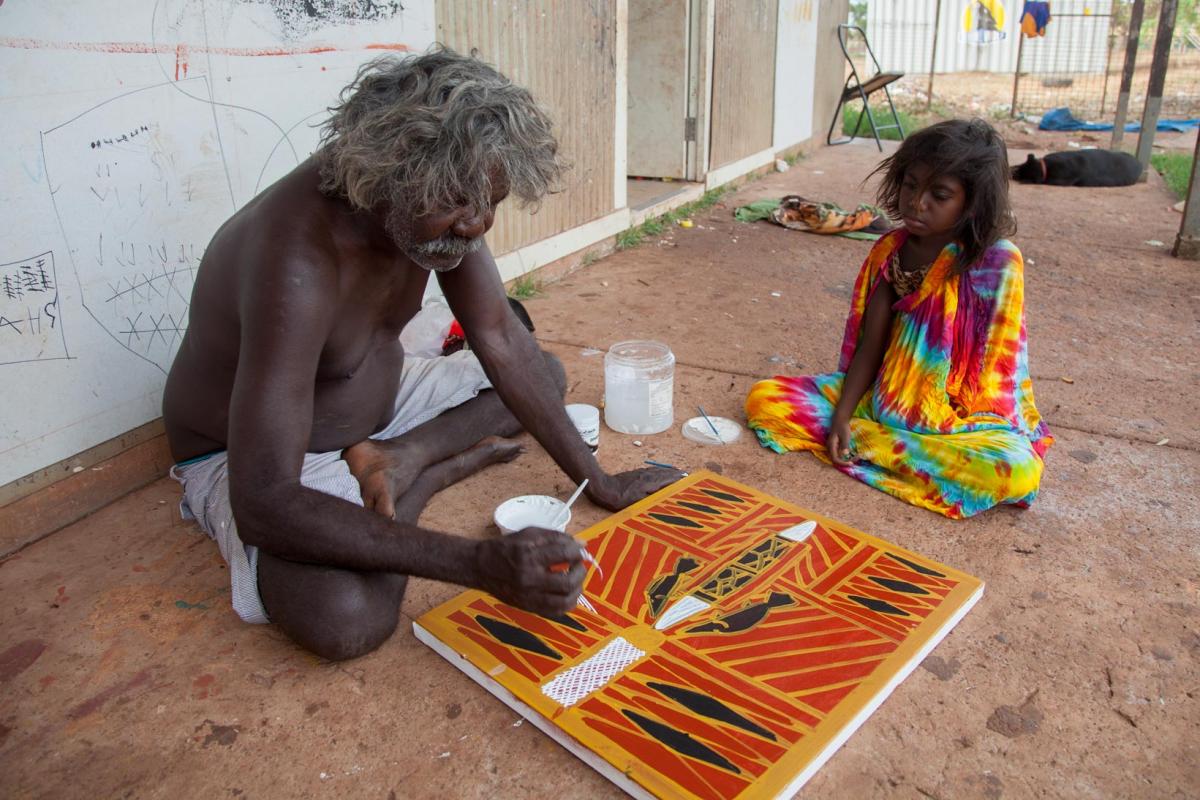 Peter's parents had moved to Galiwinku on Elcho Island off the coast of Arnhem Land, Northern Territory, Australia, when he was young. It was there that he met his wife Priscilla and together raised four children – three girls and a boy. Throughout his life he has worn many caps–an electrician, a fisherman, building planes, police aid, and a farmer.
Peter is also the custodian of his culture and passing it on to future generations is by far his most important role.
Peter began to develop cataracts and the failing sight in both his eyes threatened his ability to hunt and provide for his family. But just as devastating was his inability to paint. "My technique is my culture and I can't lose it," he told the Fred Hollows Foundation.
Aboriginal and Torres Strait Islander adults are six times more likely to go blind than non-Indigenous Australians. Around one in three do not have the opportunity to have their eyes tested. But thanks to the Foundation's outreach programme in the Northern Territory, Peter had access to cataract surgery and regained his vision.
Peter is now a new man and is delighted to go back to his family and especially his paintings.
Daniel Jesus Vignolli a Brazilian photographer/videographer captured Peter's story for the Fred Hollows Foundation. Along the way, he forged a quick connection with Peter bonding over Daniel's ignorance of Australian fauna and him trying to learn Peter's language.
Daniel says, "I went back to see him 6 months after surgery, he gave me one of his paintings and adopted me as his grandson. It came as the best recognition I could receive that not only was I doing my job well but I was treating the person in front of the lens with respect."
Liked it? Please see the first two posts in the series
#StrongerTogether Photo Story: Jeffrey van Haastrecht
#StrongerTogether Photo Story: Mothers and Children of Cataract