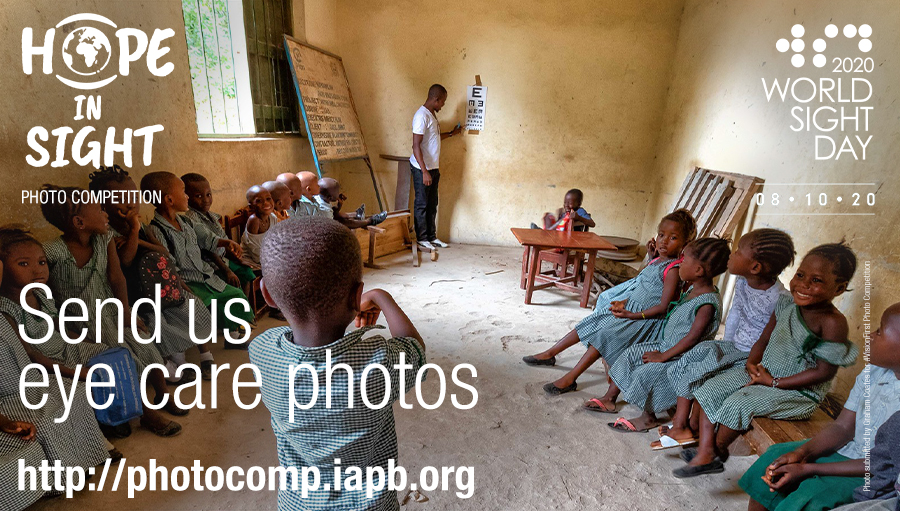 IAPB, with support from Bayer, is back with our World Sight Day online photo competition. This year, the theme is "Hope In Sight" and the last day of submissions is World Sight Day (8 October 2020). Prizes include a DSLR camera and a cash prize for our professional submissions. This year, we have a special category to document the impact of COVID-19! Find out more at http://photocomp.iapb.org (Do use the hashtags #HopeInSight #WSD2020 #WorldSightDay)
The World Sight Day photo competitions have celebrated the diversity of stakeholders in the eye health sector and the people who benefit from eye care. This year too, the international photo competition is open for amateur and professional photographers around the world with the theme #HopeInSight.
COVID-19
2020 has been a year of extraordinary changes because of the COVID-19 pandemic raging across the world. Most countries have prioritized COVID-19 control and every aspect of the country's health system has a role to play. Eye health professionals around the world have stepped into to help, be it screening or for advising care. Hospitals and outreach programmes have had to completely re-think our approach to care.
Yet, there is hope in sight. There are many innovations and models that eye health has developed over the years, which can positively impact health. Our tele-health models, experience in outreach, cross-sectoral access (education, ageing etc.) and many more are positive stories that give hope.
The photo competition is a great opportunity to highlight this impact – share pictures of how we are delivering eye health under the circumstances. However, do take care of yourself and follow COVID-19 precautions diligently.
Joanna Conlon, Director of Development and Communications said, "Hope is a powerful word today. The photo competition is a great opportunity to show that we can offer solutions, and have a role in crafting a better future. I am delighted that IAPB can bring this photo competition to all of you with our wonderful partners, Bayer for a sixth year running."
Theme
We know that over a billion people have a vision impairment that could have been treated or addressed. Prevalence of vision impairment in many low- and middle-income regions is estimated to be four times higher than in high-income regions.
The photo competition is a great tool to draw a spotlight on eye care issues across the globe and those who are vulnerable to sight conditions—young children, persons with diabetes, older people, people with limited access to health services etc. With the theme, "Hope In Sight", IAPB encourages you to share images that highlight the impact, and strength of our partnerships and most importantly highlight the importance of vision everywhere in the world.
World Sight Day (8 October 2020) is an international day of awareness about avoidable blindness and its prevention and is an important advocacy and communications opportunity for the eye health community. It is a great time to engage with a wider audience – a patient's family, those who seldom get an eye exam, diabetics – and showcase why eye health needs everybody's attention.
Participation in the competition is open worldwide – upload a photo that best exemplifies eyecare, give it a title or caption; clearly note your name, profession and contact details on the competition micro-site: http://photocomp.iapb.org. You can read the competition guidelines, here.
Prizes
All individuals interested in the theme are welcome to participate in the photo competition. Send us your photos with the theme "HopeInSight" before World Sight Day (8th October 2020). Every week, we will pick "Editor's picks" and showcase them on IAPB's social media accounts. Finally, winners will be selected from these Editor's picks after World Sight Day (the last day of the competition).
This year we have also introduced a special category called COVID-19. Both amateur and professional participants can choose whether their picture fits into the COVID-19 category. These images will then be highlighted in a separate album on Flickr.
The competition will be open till 8 October 2020 – World Sight Day, after which we will pick two winners and 5 runners-up. Winners will be announced on 15 October 2020. The Amateur prize will be a professional camera: Canon 1200 D DSLR camera. The professional prize this year will be a cash prize of USD 1000.
For more information do visit the micro-site: http://photocomp.iapb.org
Photo credit: Taken by Graham Coates for #VisionFirst Photo Competition with title "Checking the vision of a class of children in a rural government school in Sierra Leone"