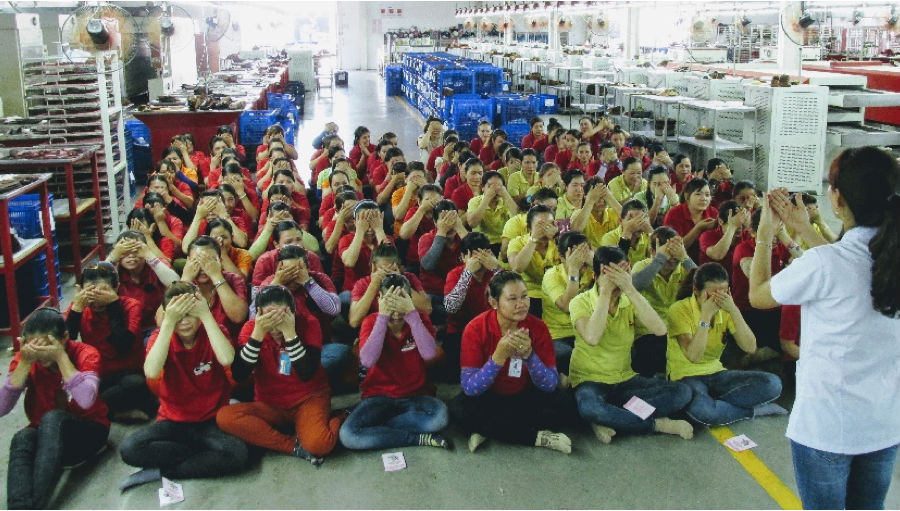 A project to improve the eye health of 15,000 female factory workers in Vietnam has halved eye injuries and seen a significant productivity gain, proving the value of investments in vision.
The Fred Hollows Foundation's "Improving vision to empower female factory workers" project introduced eye health services on the factory floors of an electric company in Da Nang and a shoe company in Quang Nam.
The project saw a significant reduction in health complaints including eye strain (down from 53% to 10.8%) and headache (from 30.4% to 11.6%). Eye diseases such as red eye, conjunctivitis, and corneal inflammation also dropped significantly from 14.9% to 1.8%. The incidence of eye injuries was reduced by 50%.
Labour productivity in the two factories jumped from 87.6% in 2017 to 91.2% in 2019. In the same period, the average number of products also increased from 60,349 to 62,721.
The Foundation's Vietnam Country Manager Mr Pham Quoc Anh said that good eye health should be more accessible to everyone, especially factory workers.
"The ability of factory workers to earn a living relies heavily on their ability to see properly. Unfortunately, many of the workers still consider it a luxury to visit an eye doctor – they would rather spend their money for their family's needs and use their time to work in the factory," Mr Anh said.
"Workers felt more confident about their work, which made them more productive. These results show that investing in eye health goes a long way. This is a win for workers and for their employers who not only better look after their staff but see an economic return."
The project, which lasted for almost three years and was supported by the Seeing is Believing Program of Standard Chartered Bank, recognised barriers to accessing eye health.
The programme meant workers didn't need to leave work to get consultations from visiting eye doctors, and could access help from factory health staff trained in primary eye care.
"We built a culture of eye health in the factories. Eye exercises were done every day during breaks. In special events like Women's Day, eye health activities were also mainstreamed. Every worker knew about the importance of taking care of their eyes."
Working environments were also improved to sustain these positive behavioural changes. Proper lighting and ventilation were installed, and an annual eye care plan was put into place.
A landmark study by PricewaterhouseCoopers showed that in developing countries, every $1 spent on eye health results in $4 in economic gain.