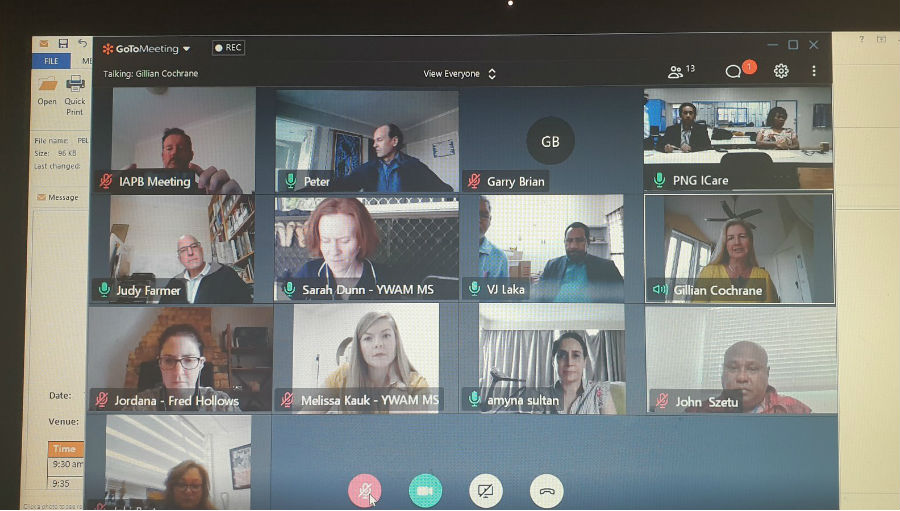 From the Physically Distanced Desks of Amanda and Drew…
The Coronavirus Crisis continues to challenge the Region including in our world of vision and eye health. For many of us it means the inability to travel and meet, to share latest developments or promote achievements and breakthroughs. For too many of the people served by our networks it means backlogs – an inability to get to the clinic, to get eyes tested or children's sight checked.
This is perhaps the most crucial point: as we hope for an end to the Crisis and as we plan for a return to services, we must not forget those who have missed out this year. Yes, it will be a challenge, but we need to remember the schools and remote communities, the cataract surgeries missed and the specs un-prescribed.
Activities are starting up again. We know that many of you are well-advanced in programming for 2021 and so we hope you will find the stories contained within this newsletter inspiring as you aim towards that light at the end of the tunnel.
China Offers a Glimpse of a Return to Normality
China National Sight Day.
Many of you will have seen the stories from our members in China, celebrating June 6. For those who didn't get a chance, please have a look at the activities and events carried out by our members including Shanghai Eye Disease Prevention and Treatment Centre, ZOC and He Vision Experts. Read more
Indigenous Eye health Series
The World Report on Vision has identified the inequity in service provision, particularly amongst minority groups. Our Indigenous Eye health series will shine a light on issues related to eye health and indigeniety, published monthly, right through until the General Assembly. This series started as a response to COVID – looking particularly at successes in Australia where the indigenous community health authorities were involved in the COVID response. As well as addressing the inequities, we aim to celebrate achievements such as these.
A very big thank you to Jaki Adams Barton from Fred Hollows Foundation for curating the series.
PNG National Day – A Celebration of Eye Health
 IAPB is delighted to share that the WHO in Port Moresby has appointed Dr Priscila Nad as Technical Officer Non-Communicable Diseases. Following on from the successful World Report on Vision launch in Port Moresby in March, we congratulate WHO in taking further steps to address eye health challenges in PNG. Dr Nad will be the focal point for vision and blindness work, furthering coordination efforts to reduce blindness and vision impairment in PNG and working closely with the Prevention of Blindness Committee and PNG stakeholders.
In keeping with our indigenous series, please check the website over the coming weeks as we bring you articles from PNG – on September 16, PNG celebrates 45 years of independence from Australia. The Covid period as tested PNG and yet there continue to be great successes within the ey health sector – IAPB is thrilled to be able to share those with you.
Highlighting Singapore Eye Research Institute
Many of you are aware of the world-leading activities undertaken by our Singapore-based member SERI – particularly their ground-breaking research and work in the technology sector. Of course, as we move into the latter part of 2020, SERI was also expecting to play host to GA2020. COVID may have disrupted our 2020 plans, but not our plans to work with SERI – when the time is right – on an event befitting IAPB's leading role in bringing eye health into the 2020s.
In the meantime, we have recently featured two of SERI's works on the website.
World Health Assembly Resolution – thank you
On August 4, IAPB celebrated leading a successful advocacy campaign with the WHO at the World Health Assembly which saw a new resolution on vision ratified. This is a crucial step in an effort to reach the 1 billion people worldwide who do not have access to vital eye care services. IAPB is very grateful to the support of our members in this campaign. Our success is a testimony to everybody's hard work. #strongertogether.