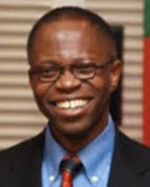 Dr. Yao Sodahlon, MD, MSc, will become the next Director of the Mectizan Donation Program (MDP), beginning on October 17, 2016. Yao will replace Dr. Adrian Hopkins, who will be retiring after nearly nine years serving as director of the MDP.

Yao has 20 years of experience in positions of increasing responsibility focused on global health and neglected tropical diseases (NTDs ). From 1996 to 2006 he worked in the Ministry of Health of Togo, leading a range of public health and disease control programs. Since 2006 has been the Senior Associate Director of the MDP, working closely with Adrian on onchocerciasis and lymphatic filariasis control and elimination efforts. Yao is also a visiting scientist at the U.S. Centers for Disease Control and Prevention, in Atlanta, and has authored and contributed to dozens of peer-reviewed articles on tropical disease and public health.
For more information read the MDP e-blast here.