Arclight, a low-cost, solar-powered ophthalmoscope aimed at helping health workers in low-income countries detect signs of blindness was launched on 25 January at the London School of Hygiene and Tropical Medicine.
Designed specifically as an easy-to-use, pocket-sized tool for out-reach or screening programmes it enables users to make instant, on-the-spot diagnostic decisions. Priced as low as £5 per unit, yet still performing as well as traditional devices costing up to 100 times as much, it is set to make a real difference worldwide.
Few hospital-based doctors have these essential, normally expensive devices and almost none are available at the mid or community level. After four years of informal trials in the Solomon Islands, Fiji, Ethiopia, Rwanda, Kenya, Malawi, and Australia; plus a formal research assessment at the International Centre for Eye Health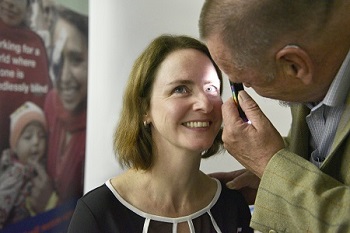 (ICEH), London, Arclight comes with the endorsement of experts in the field.
An examiner can see the front of the eye and eyelids, media, fundus, and the external and middle ear; helping reveal cataract, glaucoma, diabetic changes, hypertension, and macular degeneration, as well as otitis externa and media. It is ideal for students or mid-level eye workers, but also optometrists and ophthalmologists everywhere as a handy back-up device. It can also be used as an otoscope to look into the ears.
The International Agency for the Prevention of Blindness (IAPB), through its Standard List project, will help with marketing and sales, and will act as host. Phil Hoare, Procurement Manager, IAPB said "I've seen dozens of interesting ideas over the years, but this clever device really stands out – no messing about, just switch it on and go…"
Mr John Sandford-Smith MBE, FRCS, FRCOphth an emeritus consultant ophthalmologist at Leicester Royal Infirmary who has immense global knowledge and has been pivotal in championing Arclight said "Direct ophthalmoscopy is an easily learnt and powerful technique. Modern, as light as a feather, and easy to charge by sun or USB. Both home and away I would never be without it."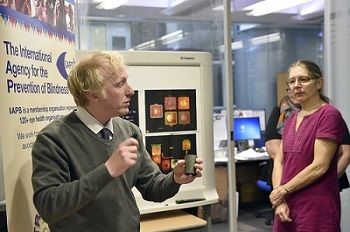 Arclight has been developed by William J Williams, an optometrist with an interest in design and electronics helped by The Fred Hollows Foundation, which has a long history of supporting innovative low-cost technologies that tackle avoidable blindness. Dr Richard Le Mesurier FRCS, FRCOphth IAPB Western Pacific Chair and Medical Director of The Fred Hollows Foundation said "This instrument will make a huge difference to so many eye health workers in remote areas and the communities they serve – letting them detect and prevent blindness. And no replacing blown bulbs, or worrying if the battery is dead."
For more information
Contact Phil Hoare; Procurement Manager, IAPB; phoare@iapb.org; +44 (0)7738-785-326 / or go to the Standard List website