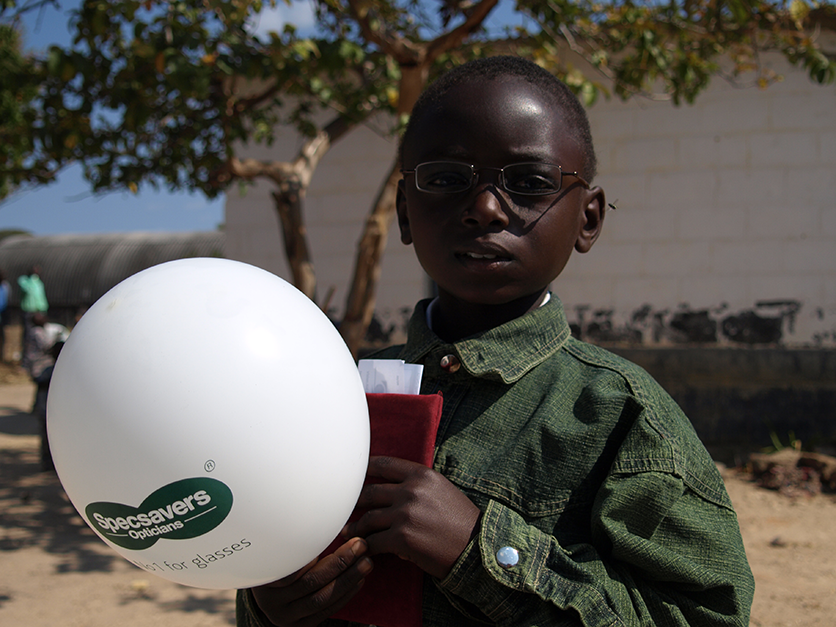 A Specsavers-funded programme in Zambia has helped Vision Aid Overseas screen more than 115,000 patients in rural clinics for visual impairment and provide over 71, 000 children and adults with life changing glasses.
Since the development of an eye health programme within the Zambian Ministry of Health in 2004, there has been considerable progress made in establishing public eye health facilities and ophthalmic personnel within the country. However, despite the efforts made by the Zambian government and INGO, Zambia still has a low optometrist to patient ratio with only 16 qualified optometrists for a population of 16.2 million, with the majority working in private clinics. Consequently, this has meant that accessing eye health services, especially for people in remote and isolated communities in Zambia, has remained difficult and expensive.
Specsavers and
Vision Aid Overseas
have been working in partnership since 2009 to develop a national eye care Programme that provides a sustainable and affordable solution to the growing problem of avoidable visual impairment which affects more than 640 million people worldwide.
In the latest phase of the Programme 2014-16, Specsavers and Vision Aid Overseas have:
Screened more than 115, 000 patients in rural clinics for visual impairment
Provided more than 71,000 patients with life changing glasses
Trained more than 115 Ophthalmic Clinical Officers to be able to deliver eye tests
Provided 37 optometry graduates with Continuous Professional Development to enhance their optical skills and knowledge
Established one Vision Centre in each of the 10 provinces
Developed a diploma course in Optometry at Chainama College of Health Sciences in Lusaka, working with the Zambian Ministry of Health and Sightsavers
Sent more than 111 Professional Volunteers to help establish Vision Centres, train local eye care workers and deliver outreach clinics in remote communities
Karen Edwards, Country Director said:
"Before 2009, there weren't many positions for optometrists to work in government services in Zambia. There was hardly any opportunity for continuing education or guidance in the further development of their profession. Most eye care services that were available were often privatised and expensive for most Zambians. Thanks to the generous support from Specsavers,
Vision Aid Overseas
has already made a significant impact and contribution to the development of eye care services in Zambia and looks forward to continuing our work with Specsavers in the future to help eliminate avoidable vision impairment across Zambia. "
Photo by Vision Aid Overseas