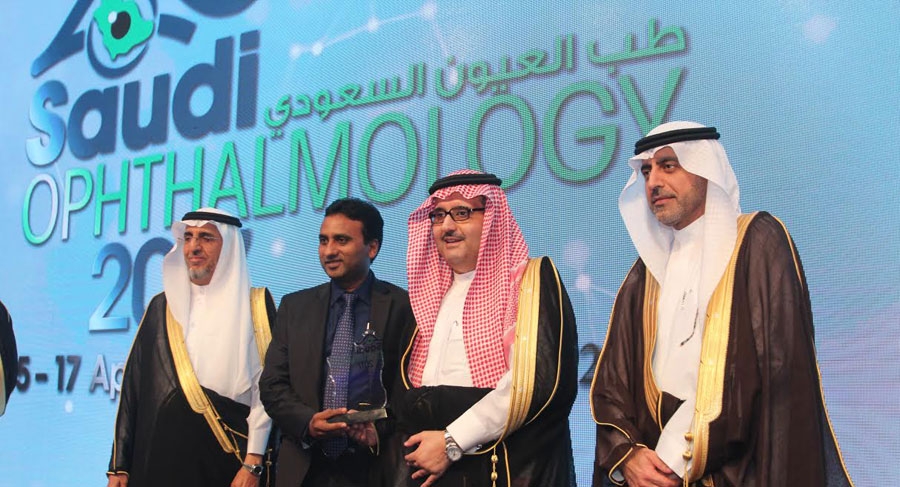 Press Release: Riyadh, Saudi Arabia, 1 May 2017:
Professor Kovin Naidoo, CEO of Brien Holden Vision Institute has been awarded the distinguished Prevention of Blindness (POB) Shield Lecture award.
The Prevention of Blindness (POB) Shield Lecture award recognizes individuals who have made a significant contribution to the prevention of blindness and vision impairment in their country or globally. The lecture is a feature of the internationally recognized event, supported by the Saudi Ophthalmology Society, which attracts over 1,500 attendees each year. As the awardee Prof Naidoo presented on his novel research and public health optometry work.
Prince Abdulaziz bin Ahmad Al Saud, President of the Saudi Ophthalmology Society, presented the award to Prof Naidoo at the recent Saudi Ophthalmology 2017 conference for his continuing work in preventative ophthalmology, particularly in the areas of avoidable childhood blindness and cataract.
Prof Naidoo is founder and chair of African Vision Research Institute, which has brought together various stakeholders to address the backlog of cataract services in South Africa, specifically in the province of KwaZulu-Natal.
He is also the initiator and Campaign Director for Our Children's Vision, a global campaign working to upscale, accelerate and expand access to eye health services to more children, in more locations. By the end of 2016 the campaign had, through its coalition of partners, reached 10 million children – an amazing milestone and great achievement for global child eye health.
"The consequences of a child not being able to see clearly cannot be underestimated," explained Prof Naidoo. "These children are often misunderstood as being unintelligent, un-athletic, and introverted. When in reality they are simply unable to see well enough to get involved and enjoy the things kids love to do."
This recent industry honour follows closely behind the Henry B. Peters Memorial Award that Prof Naidoo received in Anaheim last year November 2016, from American Academy of Optometry for his exemplary contributions to public health and environmental vision over many years.
To read more visit: https://www.brienholdenvision.org/news/item/100-saudi-ophthalmology-award-to-kovin-naidoo-for-work-in-childhood-blindness-and-cataract.html
Photo taken from Brien Holden Vision Institute press release