Statement from the Chair on behalf of VISION 2020 UK Trustees
After 3 years leading VISION 2020 UK, our Chief Executive Mercy Jeyasingham will be leaving the organisation on Tuesday 6th June. Since taking up the post Mercy has enabled the organisation to increase its' profile within the eye health and sight loss sector and with organisations and influencers in the wider health and social care sphere including national and devolved governments.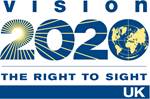 Under her leadership VISION 2020 UK has secured funding for data collection of the Public Health Indicator on eye health, worked in collaboration with ADASS, NHS England and others to deliver an integrated care programme and formed new and effective strategic partnerships both within and outside the sector.
Matt Broom will be taking over as acting CEO until the work of the organisation is transferred to the successor organisation, Vision UK.
I would like to give my thanks for Mercy's valuable contribution to the successful collaborations which VISION 2020 UK engenders and wish her well for her future.