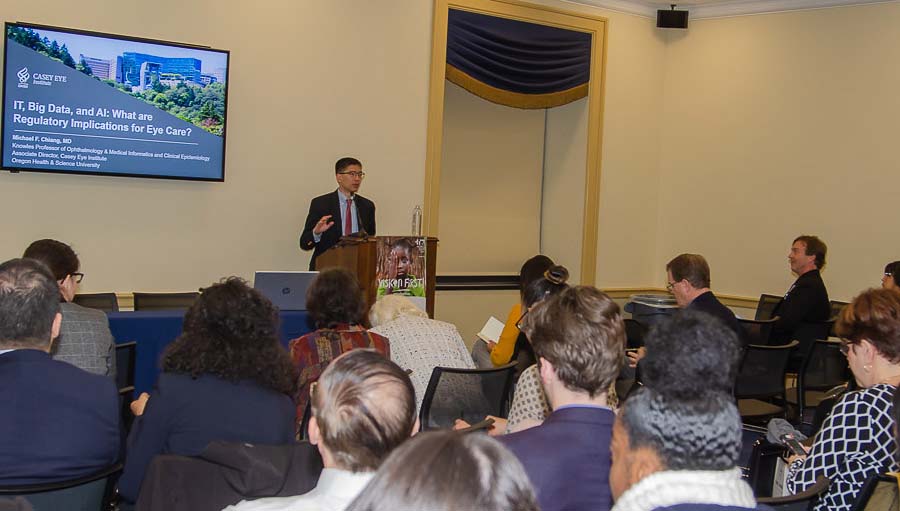 Moderated by Mitchell V. Brinks, MD, MPH, Chair of Vision 2020 USA, the October 17 World Sight Day Congressional Briefing, shared insights on the promise of Artificial Intelligence (AI), Information Technology (IT) and Big Data for vision and eye health. Dr. Brinks first noted the newly laid out road map for the future provided by the recently released major publications on vision and eye health from the World Health Organization and the U.S. National Academy of Science, Engineering, and Medicine.
The featured speaker for the briefing was Michael F. Chiang, MD, Knowles Professor of Ophthalmology & Medical Informatics and Clinical Epidemiology at Oregon Health & Science University (OHSU), and Associate Director of the OHSU Casey Eye Institute, Chair of the AAO IRIS Registry Data Analytics Committee, and Chair of the AAO Task Force on Artificial Intelligence at the American Academy of Ophthalmology.
Dr. Chiang initially described the potential to harness AI to better diagnose and treat Retinopathy of Prematurity – a major cause of blindness among children and diabetic retinopathy – the leading cause of vision loss in the working age population, as well as –age related macular degeneration – the leading cause of vision loss among older Americans.  He first noted that ophthalmology has taken the lead in AI among health fields. He then described how AI might be used in screening for eye disease in the future, whether at a Primary Care Physician office or community sites.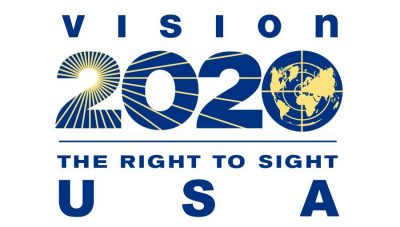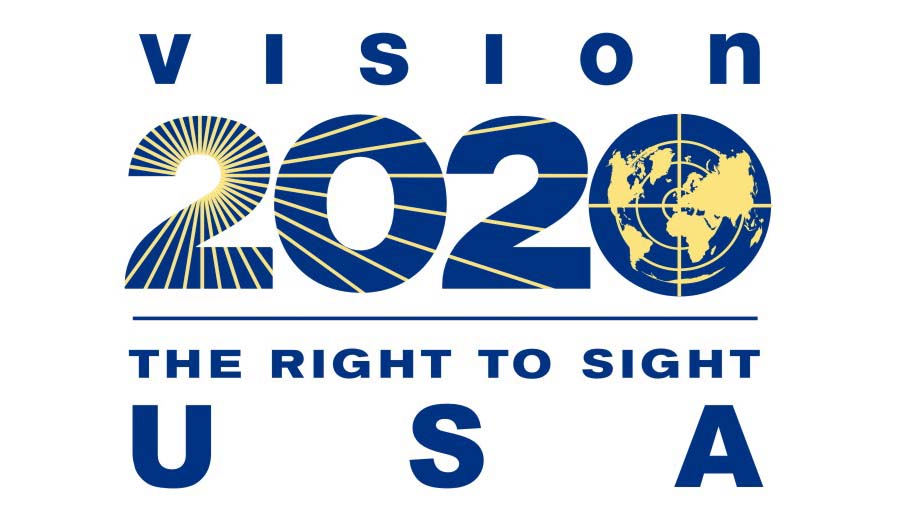 Noting that AI holds the potential to diagnose eye disease earlier and often with greater accuracy than doctors, the technology may offer the ability to treat eye disease sooner and with greater precision that current techniques.  AI can also predict systemic health issues, such as cardiovascular disease and possibly diseases related to cognitive decline. Dr. Chiang also emphasized the leading role the American Academy of Ophthalmology's IRIS® Registry has taken in big data analytics, not only being the first national registry but the largest specialty-specific registry in any field of medicine, with information on 253 million eye exams to-date. The Big Data gleaned from registries such as IRIS® facilitate the development of population-based medicine, which then leads back to more personalized health care approaches, potentially better and more accessible eye care.
Key barriers to the greater use of these technologies include barriers to sharing information among the instruments and software systems involved in collecting and managing these data, such as Electronic Health Records (EHR) and cameras and other imaging technology.
Additional commentary was provided by Victoria Sheffield, Vice President of the International Agency for the Prevention of Blindness. Ms Sheffield introduced the recently launched World Report on Vision by the World Health Organization (WHO) which estimates there are 2.2 billion people globally experiencing vision impairment; 1.2 billion of those have received eye health services including glasses. However, there remains another 1 billion whose vision impairment could have been prevented or who are yet to receive services. The report describes how better broad population information and eye health systems integration are key priorities to deliver better eye care and prevent blindness in the future.
The event was attended by the National Eye Institute's Acting Deputy Director Mary Frances Cotch, PhD, along with Communications Director Maria Zacharias and Congressional Liaison office's Nora Wong, MPH.
Sponsors
Thank you to the following members for their generous sponsorship of this briefing:
Alliance for Eye and Vision Research (AEVR)
American Academy of Optometry
American Optometric Association
Association for Research in Vision and Ophthalmology
Brightfocus foundation
Casey Eye Institute
Helen Keller International
Himalayan Cataract Project
International Eye Foundation
Kellogg Eye Center for International Ophthalmology
Lighthouse Guild
Lions Club International
One Sight
Orbis International
Pacific University College of Optometry
Prevent Blindness
R. Ramchandran
Flaum Eye Institute
Seva Foundation
Vision Impact Institute
Watch the presentations from the 2019 World Sight Day Congressional Briefing
Photo 1: L-R: NEI Communications Director Maria Zacharias, NEI Acting Deputy Director Mary Frances Cotch, PhD, Mitchell Brinks, MD, MPH. Photos credit: David Roddy.  Photography sponsored by AEVR.