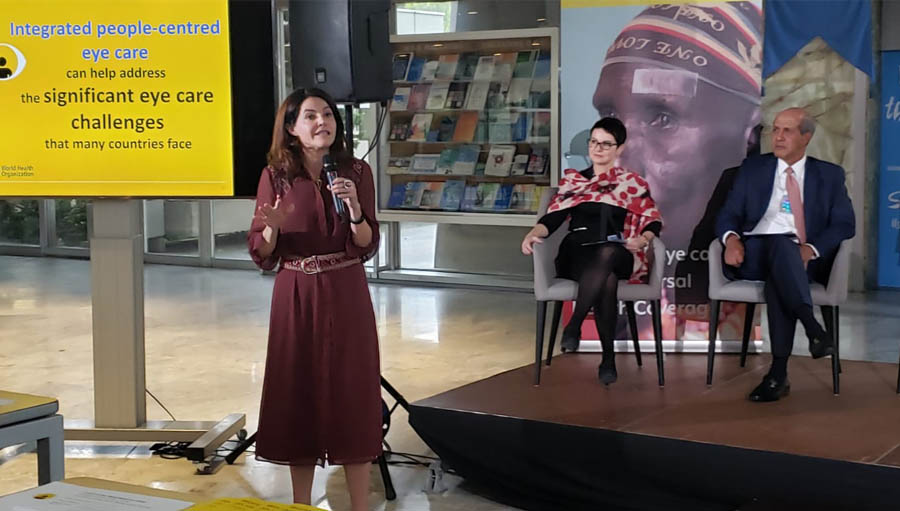 The World Health Organization (WHO) launches this crucial framework for eye health delivery on the eve of World Sight Day 2019. Dr Alarcos Cieza speaking at the launch of the World Report on Vision in Geneva.
 The World Health Organization (WHO) and their partners from the eye health sector, including the International Agency for the Prevention of Blindness (IAPB) and IAPB members, Sightsavers and The Fred Hollows Foundation launched the much-anticipated World Report on Vision today, in Geneva.
Access the report here and our Advocacy toolkit with key messages, here.
The World report offers clear proposals to address significant challenges in delivering eye care through existing health systems. It builds on the concerted efforts of the past thirty years to propose an integrated, people-centred eye care that strengthens health systems and meets population needs. The report also frames eye care delivery in the context of achieving Universal Health Coverage (UHC) and the Sustainable Development Goal 3 ("Ensure healthy lives and promote well-being for all at all ages").
"It is unacceptable that more than a billion people are affected by treatable or avoidable sight loss. And this number is projected to balloon in the coming years—we need to act now", said Peter Holland, CEO, IAPB. "I congratulate the WHO and partners for launching this crucial document on the eve of World Sight Day. In the coming months, we will work with the WHO and IAPB member organisations to advocate for and deliver the World Report's priorities across the world".
Globally more than 2.2 billion people have a vision impairment. Of those at least 1 billion people have a vision impairment that could have been prevented or has yet to be treated. As usual, this burden is not borne equally: it weighs heavily on people from low- and middle-income countries, women, older persons and those from ethnic minorities.
The World Report recognises that solutions must focus on integrated, people-centred eye care. It urges countries to protect their peoples from financial hardship resulting from accessing eye health, with greater cooperation between eye care and allied sectors like education, labour, social services and the private sector.
Writing in the report, Dr Tedros Adhanom Ghebreyesus, Director-General, WHO, noted: "Clearly, we have no choice but to take on this challenge. It is time to make sure that as many people as possible in all countries can see as well as current health technologies and health systems allow".
IAPB's advocacy team will be working with IAPB member organisations around the world to advocate for, and launch the World Report in many countries over the following months. Do write to advocacy@iapb.org for more information on launch schedules, advocacy and communications tool-kits and opportunities for partnerships and strategic cooperation.