During  our Seeing is Believing funded project – Pono Letlotlo, that is being jointly implemented by the Ministry of Health in Botswana and Addenbrooke's Abroad (Cambridge University Hospitals) with VISION 2020 Links Programme and Vision Aid Overseas as partners, we have completed a RAAB survey. The survey was completed in 2014 and is the first full national survey completed in Botswana using the RAAB methodology.
There were many challenges that had to be overcome during the survey, not least managing the logistics of conducting it across Botswana's large geographical area and reaching the sparsely spread small population.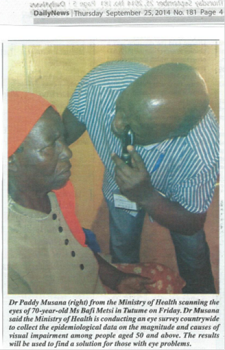 In spite of the challenges we managed to complete the survey and the results were compiled and used in March 2015 at a workshop facilitated by Professor Allen Foster to develop the next 5 year national eye plan for Botswana 2015-2019. The workshop demonstrated the critical importance of the data collected by the RAAB survey as it enabled us to develop a realistic and achievable plan to reach the Global Action Plan goal of reducing blindness and visual impairment by 25%.
Professor Foster spent a considerable amount of time during the 3 day workshop explaining and re-iterating the results of the RAAB and demonstrated their importance for planning purposes. The process he followed emphasised the need to allow considerable time for joint planning and agreeing targets.
We continue to face some difficulties in our project with data collection and reporting of numbers but as many staff involved in the project were involved in the strategic planning workshop, we are confident that we can use the learning and experience of the strategic planning workshop to improve reporting within the project and to build a reporting culture that will support quality improvement of eye services in Botswana.

Evelyn Brealey
Programme Director, Addenbrooke's Abroad
evelyn.brealey@addenbrookes.nhs.co.uk