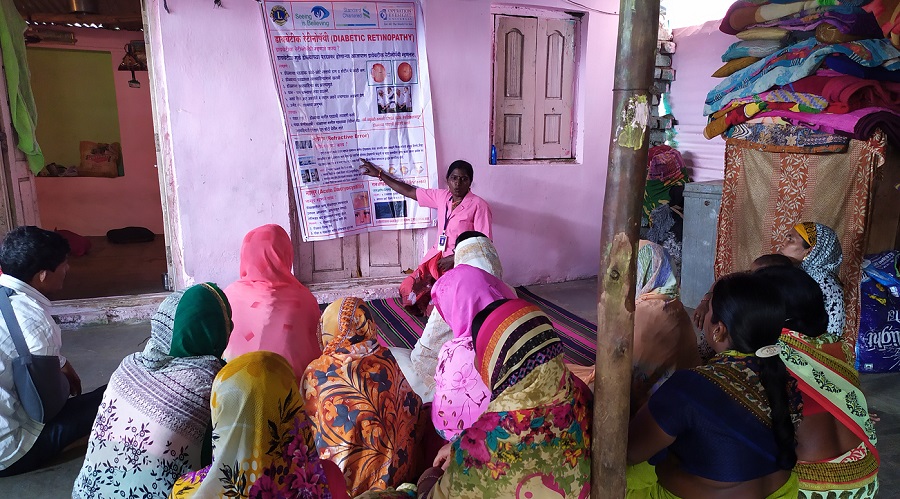 If we look at the burden of blindness in India, cataract and uncorrected refractive error constitute approximately 80 percent of the eye conditions resulting in visual impairment and blindness; both disorders are completely avoidable. A simple pair of spectacles, timely diagnosis, referral and treatment at an appropriate eye facility is all it takes to eliminate the burden of avoidable blindness. As easy as it sounds, the problem is compounded by limited accessibility, lack of knowledge and awareness about eye health, low priority accorded to eye problems, gender discrimination, poor mobility among elderly people, lack of ophthalmic personnel especially in rural areas, and traditional harmful practices, to name a few.
Traditional approaches such as screening programmes have been extensively used to bridge the gaps, however, these types of interventions should only be temporary, as they do not guarantee the provision of quality services. They also compromise the quality of diagnosis and treatment and do little to educate the population on eye health, which means that those who experience eye health problems tomorrow will be forced to simply wait for the next screening programme. Hence, these interventions play a limited role in improving the eye health-seeking behaviour of the population.
Operation Eyesight, with support from Seeing is Believing, is implementing our unique Vision Centre-Based Community Eye Health Programme model across five states of India with seven partner hospitals, including the National Programme for Control of Blindness, Arunachal Pradesh.
Typically, sustainability is looked at from the "supply side" (service provision) and rarely through the "demand side" (generating need in the target area). We at Operation Eyesight look at sustainability from both of these perspectives.
Through our Vision Centre-Based Community Eye Health Programme, we have recruited and trained community health workers (CHWs) – mostly women, who live and work within the project intervention area – and ASHA (primary health care) workers on common eye diseases, door-to-door survey methodology, health education and more. The CHWs and ASHA workers conduct door-to-door surveys in the target area, identify those with eye health issues, and refer patients to a vision centre or appropriate facility for treatment. They also conduct extensive heath education sessions in the community to increase the knowledge and awareness of eye health, thus encouraging eye health-seeking behaviour.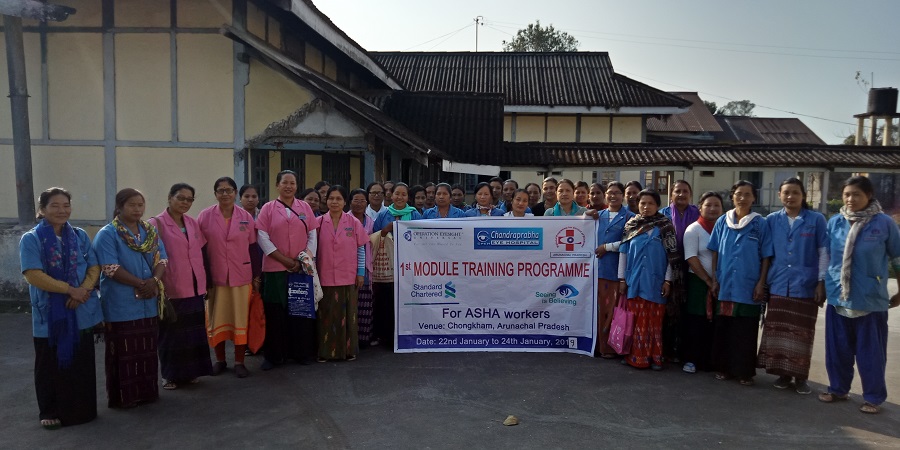 We have incorporated different tools and techniques of participatory rural appraisals to involve community members extensively in programme planning and implementation, and to understand changes in their knowledge and awareness over time. We call this our Participatory Approach to Community Eye Health.
All of these strategies ensure that the community is empowered to take ownership of their eye health, which addresses the "demand side" of sustainability. Training ASHA workers on the identification of common eye diseases has also helped us foster good working relationships between the CHWs and their government counterparts. In Arunachal Pradesh, where we have engaged primarily ASHA workers in our interventions, the outcome of the project has encouraged the state government to replicate our model in other parts of the state.
Vision centres have been established at central locations of our project intervention areas. They are linked with a secondary- or tertiary-level eye hospital, where patients requiring comprehensive treatment are referred. To ensure the quality of treatment provided, we periodically conduct refresher training programmes for the ophthalmic personnel. We also conduct regular audits of the vision centres and monitor the quality of surgical outcomes of the partner hospitals to address the "supply side" of sustainability.
This approach did see its fair share of challenges in the early days. CHW attrition and the ASHA workers' passive attitudes were major challenges. We analyzed both problems and found that the turnover of CHWs was primarily due to low compensation and an improper selection process. We negotiated with the partner hospitals and incorporated travel allowances for the CHWs, which took care of their extra expenditures when travelling great distances. We also improved our selection process. The passive attitude of ASHA workers was due to their lack of confidence, which was attributed to a lack of knowledge and the low priority historically given to eye health. Regular refresher training programmes and physical monitoring of the project with senior government officials helped us overcome this challenge.
We are now on the path to achieving sustainability in all our interventions. Our unique approach and focus on sustainability, especially when it comes to the demand side of the equation, has been a game changer. We've empowered target communities to take responsibility for their own eye health, which means people will continue to seek eye care services even after our formal projects have concluded. Through our innovative model, we have declared nine villages as avoidable blindness-free through Seeing is Believing-supported projects – For All The World To See!

Kashinath Bhoosnurmath
VP, International Programmes
Operation Eyesight Universal
Dr. Harish Kumar
Programme Manager- South Asia
Operation Eyesight Universal