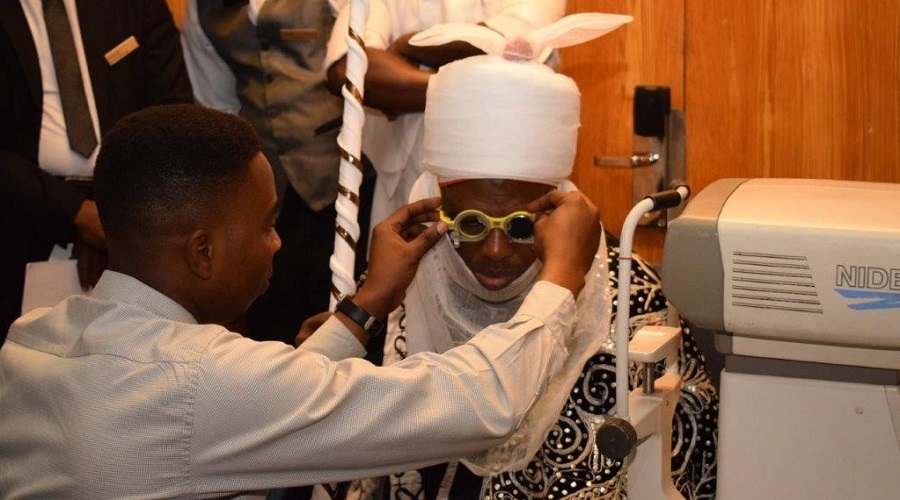 Globally, an estimated 36 million people are blind and 217 million are visually impaired. This data includes an estimated 19 million children who are vision impaired. Of these, 12 million children have a vision impairment due to refractive error. Around 1.4 million have irreversible blindness, requiring access to vision rehabilitation services to optimize functioning and reduce disability .
In Nigeria, a study titled, the Nigeria National Blindness and Visual Impairment Survey (2005-2007), revealed that 84% of blindness was due to avoidable causes. Cataract was the commonest cause of blindness, constituting 43%, and uncorrected refractive error was responsible for 57.1% of moderate visual impairment.
Study by Duke et al., (2013) further revealed that 2 in 10,000 children in Nigeria are blind or have severe visual impairment. The leading causes of blindness are cataract, Cornea scaring resulting from trachoma, measles, Vitamin A deficiency, eye injuries, infections and harmful traditional practices. Over 50% of children die within 1-2 years of becoming blind as blinding conditions are also causes of child mortality (Gilbert and Awan, 2003). Delayed treatment in children can lead to irreversibly impaired sight. Because children have a lifetime of blindness ahead of them, the number of 'blind person years' resulting from blindness starting in childhood is second only to cataract (Parikshit and Gilbert, 2007).
Data from the SiB Health Facility Gaps Assessment and Knowledge, Attitudes and Practices (KAP) studies revealed that PHC workers in Nigeria do not have the requisite skills to deliver eye health including CEH services. This is because state and federal level government in Nigeria does not accord child eye health priority attention. Child Eye Health is not part of the child health policy in Nigeria; the SiB programme intends to pursue the integration of eye heatlh into the child health policy. There are 13 intervention components included as part of the national Minimum Service Delivery Package but the package does not include eye health. The programme will support the relevant agencies of government to integrate CEH as a component of the Minimum Service Delivery Package in Nigeria and as part of the school health policy and programmes. Furthermore, an integrated manual for PHC workers which was recently updated and disseminated to stakeholders' does not have a section on eye health.
Primary health care (PHC) brings access to health care closer to where people live and work, attracting high volumes of patients due to proximity and affordability. It constitutes the first element of a continuing health process and has the potential to play a major role in reducing blindness in children through prevention, early identification and prompt referral of children for treatment. The Comprehensive Child Eye Health programme is training health care workers on primary eye care to provide the enabling environment required to increase access for indigent and vulnerable children from rural communities. So far, the programme has trained 1,882 PHC workers and 428 MCH workers including Nurses and equipped them with basic tools for visual acuity testing including: Snellen chart, pen torches and measuring ropes. Furthermore, SiB provided the trained Community Health Extension Workers (CHEWs) with basic eye medications and tools including registers, Poverty Probability Index tools and referral forms. Mrs Olawuyi Temitope Omobolanle is the senior nursing officer in charge of Oke Odo Primary Health Centre, Ile-ogbo Community, Ayedire LGA, Osun State. She was among the nurses trained under the SiB Comprehensive Child Eye Health programme at the PHC level. According to Mrs Olawuyi, the activities of the trained CHEWs is already yielding positive results within the intervention communities in Nigeria.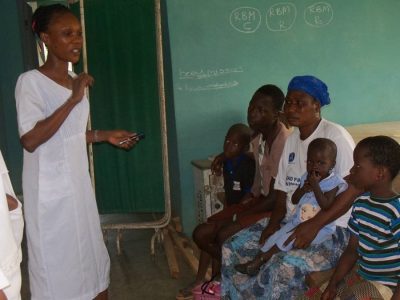 "Prior to the child eye health training by the Seeing is Believing (SiB) programme, I have never worked on eye care, I only refer cases to other facilities when they come. SiB training in the following ways has improved the services I deliver: firstly, through the training, I have gained knowledge and skills on primary eye health for children. I have also received a comprehensive manual for reference, which has been extremely helpful. At the training, I learnt how to screen the eyes of newborn children and other children with eye health problems. Furthermore, the training received has enabled me to identify visual abnormalities, carry out visual screening for children and eye examinations using the visual acuity chart and pen torch. I also gained knowledge on data collection disaggregated by gender and disability and a clear knowledge on the referral protocol, as well as, on child rights, child protection and disability inclusive development. Consequently, the frequency of patients that comes to the facility with eye health problems has increased. I am so happy and the communities are very grateful to the SiB programme in Nigeria."
As a result of the training, over 34,000 children have been screened at PHC facilities in the first half of 2018, despite a 44 day strike.

Dr Juliana Nathaniel – Ph.D.
Programme Director-SiB Nigeria
Country Coordination Office in Nigeria
CBM International