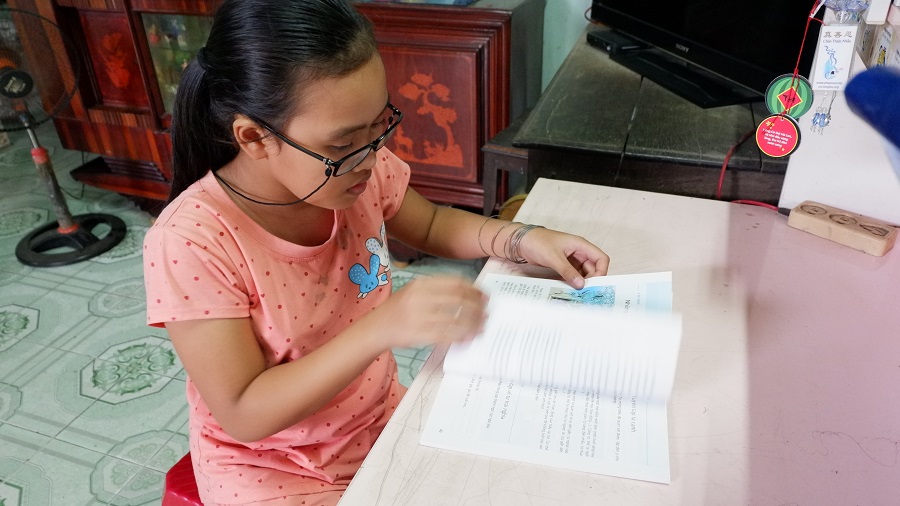 More than 200 children had their eyes checked for free in celebration of Viet Nam's action month for children and International Children's Day. Conducted by Da Nang Department of Education and Training (DoET), in cooperation with Da Nang Eye Hospital and The Fred Hollows Foundation, an eye screening event was held on 23 May 2019 at Tuong Lai school for children with disabilities.
The event was a good chance for the children to have their eyes screened for better vision. The children come from Da Nang city and neighbouring provinces, most of them living under the poverty line.
Tuong Lai school principal Mr Nguyen Duy Quy said that parents of these children often work hard so they focus more on their children's basic needs.
"The parents are breadwinners and they pay less attention to their children because they focus more on providing basic needs such as food. Providing medical support like this make them feel happy as their children improve their vision."
"From now on, their children can clearly see and read textbooks, reducing the burden for them in life," Mr Quy Duy said.
After the examination, 33 children received free spectacles from The Foundation's Viet Nam Child Eye Care (VNCEC) Project. The project aims to improve the quality of eye care and increase access to eye care services for children, reducing the rate of vision impairment for students in primary and secondary schools in Da Nang city. VNCEC Project Manager Mr Tuan Phan said that the project is trying to bring eye care to the most vulnerable children of Vietnam. "Children receive annual physical check-ups at Tuong Lai school. However, eye care is normally not included in these check-ups, so we supported the eye screening there and distributed glasses to those who need them." "Our outreach at Tuong Lai school is part of our advocacy to the school management board and the local hospital to make eye care programs mandatory for the students in the future." "We want eye care services to be delivered consistently and sustainably. To do this, we should work together with schools and hospitals so that eye care is part of every basic health program," Mr Phan said.

Kien Nguyen
Project Coordinator
The Fred Hollows Foundation