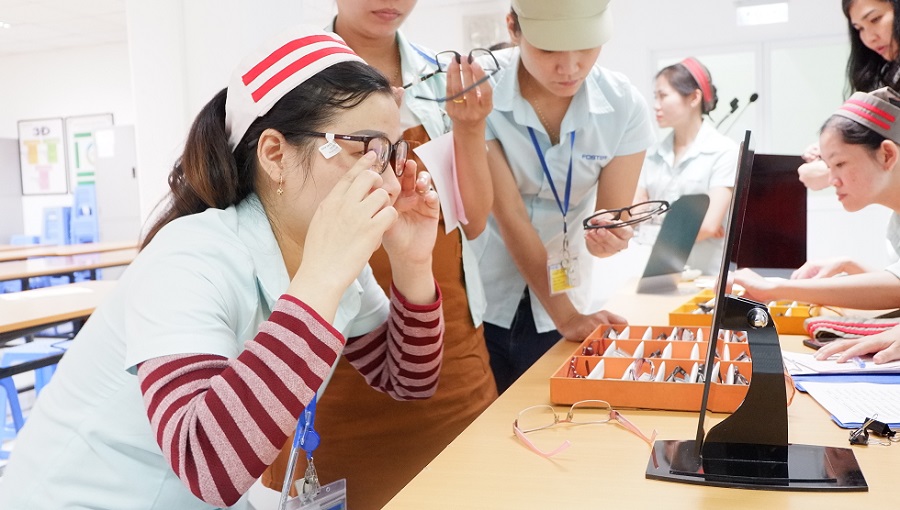 Introduction to The Fred Hollows Foundation Project "Improving Vision to Empower Female Factory Workers"
In Vietnam, evidence shows that blindness affects more women than men. Among women, those who work in the manufacturing industry are more exposed to risks that make them vulnerable to poor eye health. More effort is needed to engage different stakeholders and ensure equitable access to eye care for women.
Through the support of the SiB Innovative Fund, the Fred Hollows Foundation launched the pilot project, "Improving Vision to Empower Female Factory Workers". Launched in July 2017, the project works with a diverse range of partners to improve the eye health of women working in Vietnam's manufacturing industry.
The project will reduce risks to visual impairment and improve access to eye care services for over 16,000 female workers in two factories across the two industrial zones of Quang Nam province and Da Nang city by:
– Reducing the risks which lead to visual impairment within factories
– Raising awareness of safe eye care practices among workers and factory management personnel
– Establishing eye health screening programs in factory medical rooms and delivering training to factory medical staff
– Creating effective referral pathways to district hospitals for women identified with complicated eye health issues
– Providing specific support to women through screening services, and subsidies provided for spectacles, surgeries and treatments
After five months of project implementation, the project has achieved significant milestones including the completion of KAP baseline surveys, approval of eye care improvement action plans by factory management, conducting various trainings for factory staff, conducting comprehensive eye examinations for factory workers, commencing eye education for workers, and provision of subsidised spectacles for workers as well as basic eye care equipment for factory medical rooms.
Following the first phase of the project currently supported, the Fred Hollows Foundation also plans to evaluate the efficacy and cost effectiveness of the approach and document a model of care, which, if taken to scale, can ensure tens of thousands of women in the Vietnamese manufacturing industry have improved access to eye health.

Phan Thi Trang
Project manager
The Fred Hollows Foundation Vietnam
tphan@hollows.org
---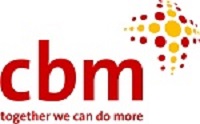 CBM Nigeria – Introduction to new project
Through Comprehensive Child Eye Health in Nigeria Programme – CCEHiN's interaction with the Federal Ministry of Health (FMoH) Eye Health Unit and the National and States Universal Education Boards, it was noted that child eye health is not a component part of the National school health policy and that, a school eye health strategy does not currently exist. Therefore Child eye health has been a neglected component of the policy and programmes in the Nigeria School health System for a very long time.
According to report of the Nigeria Child Eye Health Situation Analysis (2016), various studies, mainly hospital based, show that over 70% of blindness in children is avoidable, the lead causes are lens related and glaucoma. Refractive error is the lead cause of visual impairment and ocular morbidity is mostly due to vernal conjunctivitis, infections and trauma. The Nigerian national survey of blindness and visual impairment (2010), documented a blindness prevalence of 0.6% in children aged 10-15, although the sample was not representative. Females had a higher prevalence of blindness (0.89% than males (0.33%). Blindness prevalence among illiterate children in the survey stood at 1.53%, suggesting the lack of education for blind children in Nigeria.
Despite the magnitude of the menace of blindness and visual impairment amongst school children, not much is being done to redress the situation.  Only few Non-Governmental Organizations (NGOs), Community Based Organization (CBOs) and Faith-Based Organizations are the ones majorly working in the area of child eye health in Nigeria.
The coordination mechanism for child eye health programme seems to be weak therefore, these entities work in silos without proper coordination.
CCEHiN plans to initiate activities towards the development of a unified school eye health strategy. Relevant stakeholders and key players in child eye health including CBOs/FBOs and technocrats will participate and the representatives of the Eye Health Unit of the Federal Ministry of Health and National Universal Basic Education Board (NUBEB) will be at the driver's seat in order to come up with a standardised and unified strategy for implementation of school eye health programmes in Nigeria. The school eye health strategy when finalized will be integrated as an addendum of the school health policy and will be adapted for use by all and sundry including the Federal and States Government schools. During the semester under review, CCEHiN met with the FMoH and NUBEB to discuss the need for this critical activity and unanimously agreed to carry on with the initiative.
The Comprehensive Child Eye Health in Nigeria tagged CCEHiN programme is poised to reach more school children with quality eye health services. It is therefore hoped that the strategy when concluded will help not only to improve coordination and leadership in school eye health service delivery by the FMoH but will also help to increase access of vulnerable children to eye health services in a standardized manner, thus helping more Nigeria children to acquire necessary knowledge and skills, to achieve their potentials in life.

Dr Juliana Nathaniel – MPH, Ph.D.
Programme Director-SiB
Country Coordination Office in Nigeria, CBM International
Juliana.nathaniel@cbm.org
---
Orbis Ghana – Introduction to a new project
In January 2017 Orbis Africa, in collaboration with Standard Chartered Bank, launched a project in Ghana titled "Strengthening the Ghanaian health system to promote the uptake of child eye health services".
This three-year project will be implemented in four districts in the Ashanti Region in Ghana. These districts fall within the catchment and referral pathway to Komfo Anokye Teaching Hospital (KATH) where Orbis is already working to build technical capacity and skills to treat paediatric health conditions at the tertiary level. A number of key interventions will be implemented at community, primary and district levels of the health and education system to promote an uptake of eye health services among children at all levels of the health system.
Community Level
Recent research, supported by Orbis and carried out by the Ghana Eye Foundation in conjunction with the Ghana Ministry of Health, identified a significant lack of knowledge within communities about eye disease. Queen Mothers, female chiefs who play a central role in traditional governance, will participate in an educational programme that will enable them to deliver education and awareness to village women and caregivers within their communities.  Health education to women, particularly regarding children, falls within the mandate of Queen Mothers. Community awareness activities will include radio messaging, community education meetings and facilitated film screenings. Orbis will partner with Social Transformation and Empowerment Projects (STEPS), who pioneered the facilitated film screening methodology. This methodology uses facilitated dialogue combined with a local documentary film as a tool to promote social change.  This activity challenges stigma, promotes positive health seeking behaviour and informs community members where to access eye health services. Community Health Officers and Queen Mothers will be trained as film facilitators as part of their community education orientation.
School-based
This aspect will integrate eye health screening into SHEPS (School Health Education Programme). This is an existing programme which is a collaboration between the Ghana Health and Education services, training 80 primary and junior secondary school SHEP coordinators in primary and secondary schools in the four identified districts.
 Primary Level
The Community-based Health Programmes and Services (CHPS) model in Ghana which provides primary health care services, has achieved laudable results in improving child and maternal care. However, eye health is not currently part of the CHPS healthcare service package, so what little service does exist for eye care at the primary level is often scant and unreliable. The project aims to improve the capacity of Community Health Officers at CHPS to provide primary level eye health services, through training and the provision of equipment to CHOs (Community Health Officers).
District Level
Four district hospitals will be equipped to provide basic eye paediatric care. District level eye health Ophthalmic Nurses, or general nurses where one is not available, will be trained to treat children with basic eye conditions and refer complex cases to the tertiary level. In addition, diagnostic equipment will be provided to support the full range of district eye health services that are available.

Chantel Le Fleur-Bellerose
chantel.lefleur-bellerose@orbis.org
Monitoring and Evaluation Manager
Orbis Africa

Helen White
Helen.White@orbis.org
Director of Communications and Fundraising
Orbis Africa
---
LAICO India
LAICO received a support from Standard Chartered Global Business Services Private Limited (Formerly known as Scope International Private Limited) under "IAPB – Seeing is Believing (SiB) to implement a project on "Enabling access and enhancing eye care (non-cataract services)" under five approaches.
Supporting the treatment of corneal ulcers in poor patients
On-site diagnosis and management of Retinopathy of Prematurity (RoP) in new-born babies
Enhancing the quality of outreach with better equipment to enhance case detection and developing electronic medical record to ensure continuity of care
Equipment support for better diagnosis of corneal ulcers for timely and appropriate surgical intervention
Developing an enhanced cornea preservative medium
The project activities began in 1st March, 2017
Project team
LAICO
Aravind Eye Care System
India
---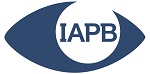 IAPB Africa – Intro to new project
IAPB Africa Meeting to Strengthen Ophthalmic Nursing in Botswana, Ghana and Tanzania, Johannesburg, August 2017
The transition from diploma to degree level ophthalmic nurse training is underway in Africa, but implementation has been problematic. For this reason, and given the urgent need to scale up production and enhance the quality of ophthalmic nursing in Africa, IAPB prepared a funding proposal to SiB to catalyse progress in Botswana, Ghana and Tanzania, inviting member agencies to participate.
This is a multi-country, multi-agency initiative involving 11 key stakeholders in 4 countries. The project will run for 3 years with a budget of US$225,000. The planning workshop brought together key stakeholders to put some meat on the bare bones of the proposal. Over 2 days, enormous progress was made in agreeing an appropriate MSc qualification for faculty, the course content for faculty up-skilling (AMREF) and provisional course content for CPD pilot programmes. In addition, how the UK LINKS programme could provide support was agreed in principle.
The workshop was opened by Ms. Geraldine Matchaba from the Standard Chartered Bank with the following remarks, "SCB is very pleased to be part of this project and sustainability is very important. The bank recognizes that the statistics of the blind and visual impairment are on the rise".
The Workshop was tightly focused on establishing a consensus for how the project would be run, responsibility for reporting and what each stakeholder could reasonably expect in terms of support from the Bank, from IAPB and from the coordinating INGO in each country: OEU in Ghana, Sightsavers in Tanzania and Addenbrookes in Botswana. It was an enjoyable 2 days and all participants left the workshop motivated to deliver on the objectives of the project and excited by the possibilities in the longer term. One aspect of the sustainability agenda is the importance of engaging even more member agencies in these countries in this initiative which will benefit all eye health providers in the years ahead. The full version of this important report is available from the IAPB Africa office.
WHO AFRO & IAPB Meeting of Experts on the Competency Framework for Eye Health Personnel in Sub-Saharan Africa, September 2017
In September, WHO AFRO and IAPB held a consultation workshop in Nairobi attended by eye health experts with the overall objective of reviewing draft core competencies for three groups of specialist eye health professionals in Sub-Saharan Africa: Ophthalmologists, Optometrists and Allied Ophthalmic Personnel before finalisation and validation by the eye health and related experts.
The development of competency frameworks for the different levels of the eye health workforce is a critical component of the IAPB Africa HRH Strategy and this workshop marked a major milestone in improving the quality and relevance of the care provided by the professional eye health workforce, thereby contributing to universal eye health care.
The experts were made up of representatives of each of the respective cadres and drawn from the different linguistic zones and sub regions of the continent.  During the workshop they critically reviewed a set of draft core competencies in terms of content, terminology and layout.  Time was then given to discussion until consensus was reached around each component. The review and plenary exercises resulted in rich debate regarding the differentiation between the three cadres as well as the key content of the competences and their domains.  The outcome of this workshop was a revised set of core competencies which was approved by all participants. The next step will be its submission to a second round of a Delphi process before a final review and approval during a second meeting of experts and country representatives scheduled for the first quarter of 2018.

Mr Ronnie Graham