The World Health Organization has recently estimated that 153 million people worldwide are visually impaired from uncorrected refractive errors. Sightsavers has been addressing this issue through the Mumbai Eye Care Campaign supported by Seeing is Believing. Our experience has shown that the largest barrier in addressing uncorrected refractive error is a lack of eye health awareness and economic issues. MECC was initiated in 2009 with the following key objectives:
·  Raising eye health awareness amongst the poor urban population of Mumbai
·  Establishment of permanent, quality and affordable refractive error services through community based organisations and hospitals
·  Develop and strengthen human resources and capacities to address refractive error services Mumbai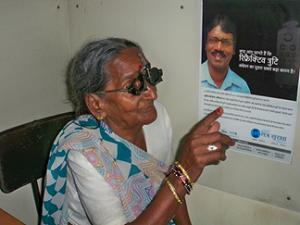 The project has successfully reached marginalised slum populations by working in consortium with partner hospitals and community based organisations (CBOs). Various CBOs from different sectors have
come together to integrate eye health into their existing work by establishing vision centres in their current operating space within the community. In an urban slum such as Mumbai, where cost of living and rental prices are high, this approach has proven to be particularly beneficial. CBOs have played an important role in mobilising communities, ensuring community participation in project activities and supporting overall sustainability of the programme. The clinical and medical services are provided by reputable eye care hospitals that have direct contact with the communities and this has engendered a high level of trust.
This consortium approach has supported the overall implementation of the project. The partnership between the hospital partners and CBOs has worked well, resulting in CBOs integrating eye health into their work in the many slum areas where the project is implemented. The project begun by supporting door-to-door screening, undertaken by community health workers, and this positively impacted both refraction outputs at the centres and also eye health awareness. Today, more than 80% of the people screened directly visit the centres to avail services. The vision centres have been well received by the community and have a good reputation for providing reliable ad cost-effective services.
From 2009-2013, the project has successfully screened more than 1.2 million people and raised awareness of eye health issues amongst 2 million people. There has been increasing demand for quality eye health services from the slum populations and eight vision centres under the project have now been established as permanent eye health units in the community, under the direct ownership of the CBOs and partner eye hospitals.
Amy Clark