The SiB Shanghai project has come to its last year. Different from its hard beginning, the last phase of the project runs smoothly and came up with significant achievements, which we believe to be the result of effective monitoring by the project leaders. From the launch day of the project, our team has been committed to solve problems and optimize processes.
By spending a lot of our efforts on data collection, recording, monitoring, investigation, and analysis, we could identify the breakthrough points which allow us to improve the implementation strategies as well as project outcomes significantly.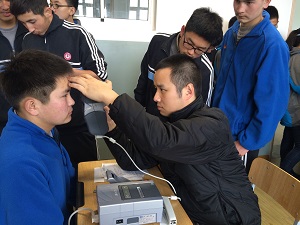 One big component of the project the RE service to students. For all the kids we screened at schools and those we have subsidized with glasses, we recorded their name, age, school, vision test result, and family phone number.
Since 2013, we have been randomly selecting kids to reach to understand their satisfaction with the service provided by branch-center outreach team and to follow-up their service uptake rate upon the screening.
Based on our findings, we adopted some new strategies to improve our services:
1. We accelerated glasses distribution after school screening and opened 'SiB fast channel' at Shanghai EENT Hospital's outpatient department for kids came for further examination after being identified with vision problem.
2. We provided subsidization to kids when they buy their first glasses rather than distributing the real glasses. Subsidization gives a lot of flexibility and such strategy makes much differences because:
We learned from the school teachers that kids don't like to wear same glasses as their peers, especially none of the kids from poor families like to be identified by their classmates through their same glasses.
The kids can go to any branch centers to get the subsidization –  more convenient for parents and less burdensome for any branch hospital.
It saved the efforts to transporting and distributing glasses to schools – less resource and time consuming
Many parents would doubt about the quality of glasses if we give out glasses directly but they liked to accept subsidization for buying glasses. The subsidization gives parents an incentive to buy their kids the first glasses. Our observation showed that even the poor parents would like to pay some extra money for glasses with better quality. Once parents had actually paid a little money for the glasses or spent time waiting in hospitals, fulfilling applications and selecting glasses, they were more likely to encourage kids to wear them, and the whole process of getting a pair of glasses also give parents good exposure to eye care knowledge.
According to the most recent survey, both service satisfaction rate and glasses uptake rate have hit 90%.

Ms.XU Meng
Program manager, Orbis International North Asia
Meng.Xu@orbis.org