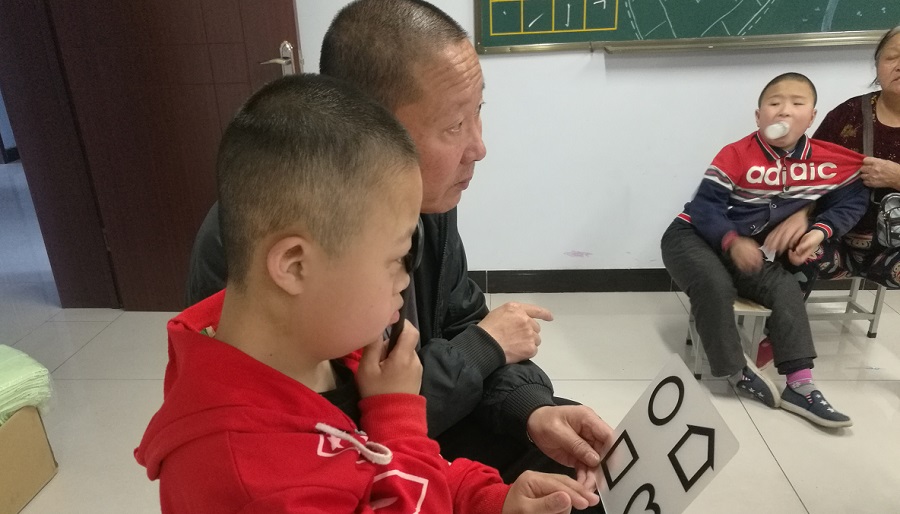 "Seeing is Believing" Shanxi CHEER Project established a child eye health network to improve children's quality of life and learning opportunities through the collaboration among multiple governmental sectors. Multidisciplinary personnel (e.g. health, education and rehabilitation) were trained in serving children with visual impairment or multiple disabilities through the project. In the last one and half years of project implementation, we learned that more special schools were setting up with the new policy to allow children with disability to access education. Therefore, a survey was conducted for 808 children in 11 specials schools in Shanxi Province between November 2017 and April 2018.
A survey team, consisting of 1 ophthalmologist, 1 optometrist/low vision staff, 2 vision testers and 1 register from the tertiary hospital, conducted the survey with 1 local special education teacher trained through the project and 1-2 teacher coordinators from local school. The team assessed all children's vision and eyes. It was their first time to assess vision for all children including those with multiple disabilities, in particular children with cognitive or deaf & speech problem. They were surprised that many children with deaf & speech problem have refractive error. On the other hand, these children showed an astonishing face during refraction with trial lens. The teacher translated that children were shocked because they could see clearly for the first time. The team was also stunning about the high prevalence of visual impairment among children with multiple disabilities such as cerebral palsy and Down Syndrome. They started to share the findings and experience at conferences in the country and planned to publish the findings of the survey. What learned through the survey also motivated them to plan the survey in all special schools in the province for reasons of research and service delivery.
The survey helped this project to improve planning and service delivery to children with visual or multiple disability. Apart from the research findings, it helped us in identifying children who need service. For example, it identified about 200 children need glasses, about 30 may need surgery for strabismus or ptosis correction and cataract or retinal surgery. There are also children need low vision services. A plan was made with the school and the local hospital to address current and long-term needs.
Local hospital to arrange free glasses for children identified.
The school or parents to take children to the referral hospital for free low vision aids.
The school teacher to inform the parents whose child may need surgical intervention to take children to the referral hospital for further examination. The phone number of the contact person of the hospital be given.
Trainers (ophthalmologists, optometrist) from the tertiary hospital to provide the hands-on training to prefecture/county hospitals in special schools or rehabilitation centers under disable people's federation.
By using the screening model from this survey, local hospital team to work with the school teachers to conduct yearly screening for new enrolled students or those identified with eye problem in the previous year.
Hospitals collaborate with special schools to promote the awareness of eye screening to children with visual or multiple disabilities among teachers, families and maternal & child care professionals.
The tertiary hospital to include how to assess vision of children with multiple disability in the resident training of ophthalmology.
The tertiary hospital to improve how to assess vision of children with multiple disability in the ophthalmology curriculum by utilizing the role of teaching hospital.
Eye care professionals, special educators, and rehabilitation workers to share information on clinical vision assessment or educational function vision assessment to maximize the function of children's residual vision, learning opportunity and the quality of life.
Sharing the survey findings about eye disease to authority of health, education and disabled people's federation for policy to avoid needless blindness or low vision, e.g. strengthening health education, screening, collaboration for early detection and intervention.
With the above plan, free glasses, low vision aids and surgical service were provided to children whose family were willing to have. It improved the demand and attendance of services. Trainers from the tertiary hospital provided hands-on training to prefecture/county hospitals in special schools or rehabilitation centers. Eye care professionals started to see children with visual or multiple disabilities as a whole person rather than only focusing on the major disability. They are more confident that every child's vision can be assessed. The special schools are proud of and parents were grateful for eye care team are capable to assess their children's eyes with special vision assessment tools and skills which they have never seen even in center of excellence in big cities such as Beijing. With the collaboration of eye care professionals and special educators, more families whose child with visual or multiple disabilities became cooperative and confident in their child. The survey raised the profile of "Seeing is Believing" project and profile of international NGO partners and local partners. The model of screening children with multiple disabilities is mature and can be scaled up and duplicated. Multidisciplinary in the project believe "Every child's vision can be assessed; Every child can learn."

Guan Chunhong
Senior Program Manager
Orbis International North Asia
Chunhong.guan@orbis.org