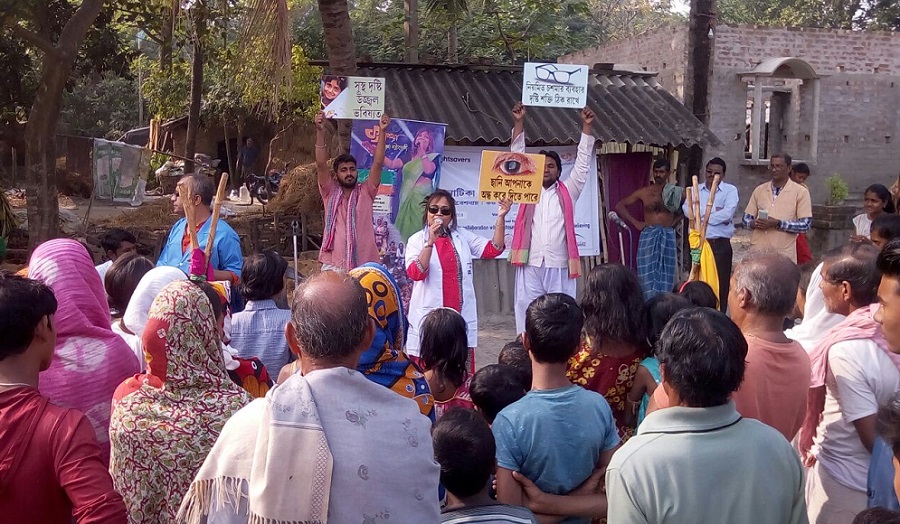 The correction of refractive error with appropriate spectacles has proven to be one of the most cost-effective vision improving interventions in eye care. However, findings from spectacles compliance show variation in compliance patterns around different age groups and gender. For example, if a person/child does not use prescribed spectacles, the efforts to correct refractive errors are not effective. Findings also show that compliance patterns and reasons for compliance were associated with several social factors, available services, and various individual barriers.
To address different social barriers and publicise available services in the community Sundarbans Eye Health Service Strengthening Project with the support of Standard Chartered Bank and under the initiative of Seeing is Believing, an innovating eye health awareness program was introduced in all 19 blocks in Sundarbans. Community awareness program using theatre shows were conducted in all Sundarbans blocks in the month of April and May 2018. At the pilot phase, 12 shows were conducted in 12 strategic locations amongst three blocks and the response from the community people was very positive. The theatre shows were participatory and interactive community education technique were used. The tools are designed for bringing out the issue of avoidable blindness and promoting eye health seeking behaviour as well as addressing myths and misconceptions. The messages mainly focused on cataract surgery, addressing myths related to cataract, emphasis on the use of spectacles and creating awareness on the location and services offered at the vision centres.
For the first time, theatre based communication was used in the Sundarbans. A theatre group was engaged who specialises in social communication using theatre as a tool. In this phase, 72 locations were identified in 13 blocks where these theatre shows were performed. These locations were selected given that they are strategic, prominent, accessible and has greater visibility. For example these are places where people usually gathered or within the community where interactions can be made with common villagers. The messages communicated through the theatre were developed based on prior discussion with the theatre team to ensure they are effective and audience appropriate. Each show has an audience of around 200-300 people from the community. It was observed that many people during and after the theatre, show came forward to discuss their problems and were open to suggestions on how to address them. People were then referred to the nearby vision centres run by the local partner. Publicity of the vision centres was also made through leaflet distribution and microphone announcements before and after the theatre shows.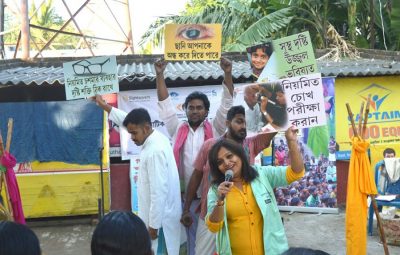 Overall the theatre shows were effective in reaching out to a larger audience. At the same time, it was highly accepted because of using culture-based approach. People were able to relate the characters and the problem portrayed in the theatre.

Arundhati Bhattacharjee,
Program Officer,
Sightsavers India
abhattacharjee@sightsavers.org