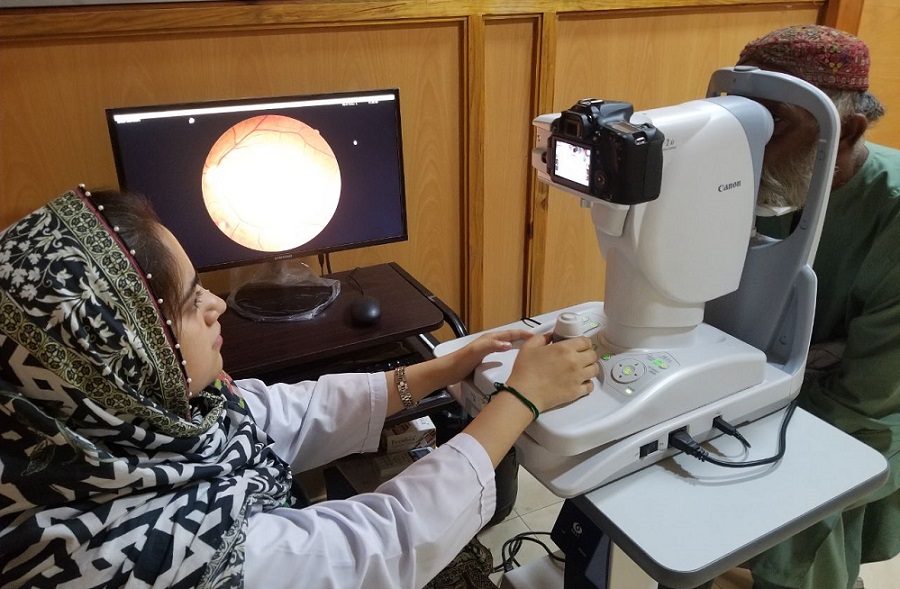 Early detection, regular check-up's, timely treatment and diabetes management have a direct impact on the development, progress and regression of diabetic retinopathy. Sightsavers has introduced various strategies to ensure treatment compliance by patients identified with diabetic retinopathy in our "Strengthening Pakistan's Response to Diabetic Retinopathy" project, funded by Seeing is Believing (Phase V).
Firstly, we appointed counsellors at all three project partner hospitals who play a key role in motivating and educating patients on the importance of follow up and compliance to the treatment plan for diabetic retinopathy / sight-threatening diabetic retinopathy as well diabetes mellitus management through life style modifications. Furthermore, we introduced a group-counselling concept which involves a counsellor delivering a presentation on diabetes mellitus and diabetic retinopathy related issues to patients and their family members whilst they are waiting to be seen in the Outpatients Department. The main purpose of this is to help make the families aware how serious the consequences of diabetic retinopathy could be and how important it is for the patient to comply with the treatment. Information, education and communication materials developed under this project, such as leaflets and audio/video messages, are also disseminated to patients while they wait.
Another strategy we introduced focuses on a project-based patient tracking software which allows us to systematically record patient data, details regarding management and follow up. In order to assure patients' treatment compliance, patients and project teams receive, thanks to the software, automated cell phone SMS and reminder emails. The counsellors also make reminder calls to patients two days prior to their follow up visit and, if the patient misses the appointment, they call the patient to find out why they could not attend. In addition, we established "One Window Operation" at one of the partner hospitals, a system which facilitates and motivates patients to uptake treatment under one roof from registration until treatment. This has also proved to be an efficient service provision system.
Lady Health Workers specifically trained in raising awareness on diabetes mellitus management and diabetic retinopathy screening ran extensive awareness raising sessions at health facilities at the community level which led to an increase in self-referrals from the communities. The very presence and work of Lady Health Workers has been an excellent way to reach out to women at household level and, as a result, we achieved a good gender balance for women's access to diabetic retinopathy screening/treatment services.
An analysis of three years' worth of data from one of the partner hospitals revealed that the strategies we have introduced and mentioned above contributed to treatment compliance and resulted in a decrease in progression of diabetic retinopathy. Over these three years, the progression from normal fundus to diabetic retinopathy decreased from 13.57% to 10.04%, whereas the progression from diabetic retinopathy to sight-threatening diabetic retinopathy decreased from 31.63% to 27.19%.

Leena Ahmed
Senior Program Officer
Sightsavers
lahmed@sightsavers.org