"I feel this is an extension of my core responsibility as an employee of Standard Chartered Bank and participating in such activities is an enriching experience for me", Sandeep Das, Head of Standard Chartered Private Bank, India.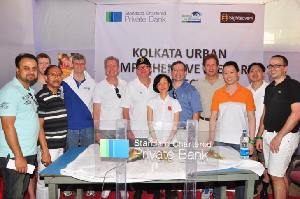 With the leading support of Karuna Bhatia, Head of Sustainability – India & South Asia, Standard Chartered Bank, Mumbai, 35 overseas Bank employees visited two vision centres in Behala and Kalighat in Kolkata as a part of a skills-based volunteering initiative.
The visit lasted half a day and the volunteers had the opportunity to share their financial and marketing expertise, to interact with beneficiaries, participate in school screening, register and manage groups of patients, assess visual acuity and raise awareness of the importance of hygiene when visiting the vision centres.
At the end of the visit the two volunteering teams provided guidance on how to ensure profitability and financial sustainability of the of vision centres. Their recommendations included:
Running the mobile vision centre once a week away from where the majority of static centres were located and providing screening facilities to reach the maximum number of patients.
Screening upper middle class schools to reach the middle class section with the message of affordable eye care.
Collaborating with student volunteers to conduct awareness raising campaigns for the vision centres.
Focusing on e-marketing and raising awareness of vision centre services through e-mail and SMS.
Ensuring accessibility of services at the vision centre by conducting clinical examinations on the ground floor rather than first floor of the centres.
Supporting the refurbishment of some vision centres and improving their appearance through painting and decorating.
Ensure that the centres are visible through clear signage and branding.
Subsidies can be made from high-value branded spectacles to attract the 'high end' customers
Following the visit to the vision centre, one of the Bank volunteers said, "I feel great and satisfied to be a part of the programme. I guess this is what life is all about!!! A mixture of feelings!!''.
The Phase IV project was implemented over five years between 2010 to 2015. Throughout the life of the project, Sightsavers actively engaged Standard Chartered staff in project activities and kept them up-to-date on progress. This helped to sustain the enthusiasm of Bank staff who would return every year with even more energy to devote to the project.

Sampa Paul
Project Manager
Sightsavers