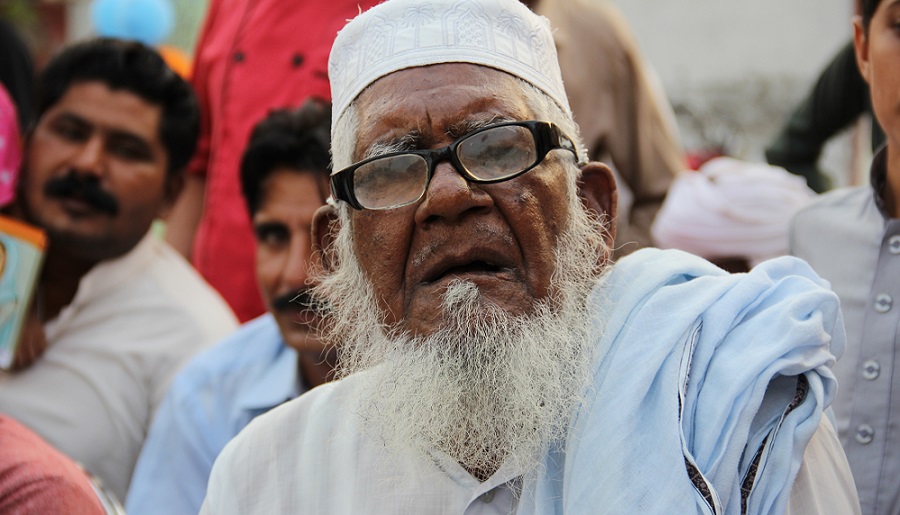 Cataract is responsible for over half of the blindness, followed by trachoma, childhood blindness, uncorrected refractive errors in Pakistan[i]. Under the 'Seeing is Believing' initiative of the Standard Chartered Bank and with the support of partner organisations, the Fred Hollows Foundation and Sightsavers has brought cataract services to the community level to benefit the elderly, with a particular focus on reaching women.
The Bank's supported project 'A New Vision for Eye Health' Project in Pakistan's Khyber Pakhtunkhwa Province" has significantly contributed towards the provision of increased cataract surgeries and spectacles acceptance in project locations. The project particularly focuses on two aspects; provision of accessible eye care services at district level and improving demand of eye care services at community level. Diagnostic and surgical ophthalmic equipment have also been provided to partner hospitals to improve cataract surgical uptake.  These services have given community members the chance to begin new and independent life, by restoring their sight.  At approximately US $26 per beneficiary, this value for money project is supporting provision of essential eye care to beneficiaries, who otherwise could never have afforded this services.
Prior to the project's inception, a situational analysis undertaken at partner hospitals identified a need to establish optical shops at these locations as inaccessible spectacles outlets were a hurdle in the patient uptake of spectacles. To meet this need, the project provided support to the partner charity hospitals to establish optical shops within their vicinity to ensure availability of subsidized good quality spectacles. Following their establishment, a total of 7,309 spectacles have been dispensed to patients at a very subsidized rate in these optical shops. There has been a significant increase in the number of spectacles dispensed to patients. In January to April 2017, only 693 spectacles were dispensed by these optical shops whereas in the same period in 2018, the total number of spectacles dispensed through optical shop was 3,761, which shows an 82% increase. The optical shops are not only increasing access for patients, but are also offering a 35-40% subsidized rate, as compared with the rest of the market. This low price is also a contributing factor in the increased uptake and acceptance of spectacles.
Work have also been undertaken by project stakeholders to raise awareness in communities to increase cataract surgical rate. The project team particularly focused on remote areas of districts and organized screening camps. There were many general misperceptions in these communities regarding cataract surgeries, such as that cataract surgery is painful, only old people need surgery, and surgery requires a long hospital stay. To counteract these misconceptions, patients identified with cataract have been counselled by the project team to undergo surgery. These screening camps, followed by sensitization and counselling sessions, have led to an increase in cataract surgical uptake at public hospitals. Further, screenings undertaken by Lady Health Workers, Medical Officers and Medical Technicians at the primary level, dissemination of IEC materials in the communities, and provision of free Intraocular Lens (IOLs) and consumables, ultimately improved the number of cataract surgeries. In 2016, there were 994 cataract surgeries performed in two partner hospitals. In 2017, a total of 1,190 cataract surgeries were performed in the same hospitals – a 16% increase. This percentage is anticipated to increase further through future project interventions.

Muhammed Bilal
Programme Officer
Sightsavers
MBilal@sightsavers.org

Khurram Shehzad,
Project Officer
The Fred Hollows Foundation Pakistan
[i] https://www.ncbi.nlm.nih.gov/pmc/articles/PMC1954803/