Sunderbans Eye Health Service Strengthening Project has completed 2 years of implementation. An objective of the project is to improve coverage and access to affordable, quality eye health services. Multiple strategies have been devised to reach a population residing across 52 islands with these services, through awareness events, outreach camps and setting up vision centres at the block level. Also Community Health Workers conduct home visits and volunteers from the area are trained to penetrate remote areas.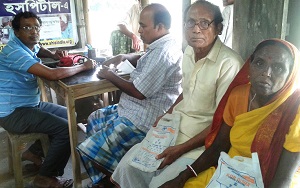 15 vision centres have provided accessible and affordable eye health services to 15,229 patients so far. They offer detailed examination using the latest equipment and machinery and high quality spectacles at subsidised rates. 818 community level eye screening camps have been conducted, screening 67,596 patients and distributing free spectacles to 1,224 adults. In order to reach the children in the project area, school screenings have been conducted in 431 schools, reaching 162,515 children and distributing free spectacles to 2,327 children.
If a patient is identified with the need for cataract surgery at the camp or at the vision centre, they are referred to the partner base hospital for free surgery. A date is given to the patient for pick up and drop at the hospital, and post-surgery the patient is brought back to their home using transport provided by the hospital. The infrastructure at the hospital has been enhanced by provision of equipment including surgical microscopes, auto refractometers and others. So far, the project has reached 7,444 adult patients and 32 children in need of cataract surgery. The project has exceeded of its target for adult surgeries at the end of 2 years, although it has been more challenging to identify children in need of this surgery.
The vision centres and camps are supported by close monitoring through regular visits, training of staff and support from senior ophthalmic personnel. As the vision centres gain credibility and popularity in the community, remote locations are now being targeted for conducting the screening camps to provide a door-step service to people residing further afield, especially the elderly and the women.

Sameera Ahmed
Programme Officer,
Sightsavers India
sahmed@sightsavers.org