Until January 2014, Operation Eyesight Universal found that achieving surgical targets under phase IV of Ghana's Seeing is Believing was a challenge. Reasons for this included (but were not limited to) some selected hospitals choosing not to perform surgeries; low levels of commitment from some partner hospitals' management; fear about undergoing surgery on the part of patients; and lack of funds to conduct outreaches.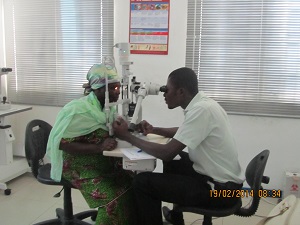 In the meantime, the concept under the Ghana phase IV project was intended to strengthen district-level hospitals by providing needed equipment, training frontline eye health personnel, providing infrastructure where needed, creating awareness and supplying consumables. Along with Ghana's national health insurance, funds generated from the surgeries and related services was to be used to further the cause of eye health service delivery in those hospitals.
Hospital (eye unit) improvement plans were developed together with the various eye units. The improvement plans including set surgical targets and a memorandum of understanding signed with each partner facility.
The project delivered its part of the agreement but some partner facilities were conducting "business as usual" – that is, working the same way as before the introduction of the project – and thus not contributing to set targets.
With failure in sight (regarding the attainment of surgical targets), the Operation Eyesight team conducted a thorough project and partner facilities review during the last quarter of 2013. The review resulted in the following decisions and strategies:
Reminded non-performing partners of the signed memorandum of understanding, highlighting the clause that in the event of breach of the memorandum of understanding, the project had the right to retrieve all donated equipment.
Organized regional meetings with partners to review partner performance.
Lobbied some regional directors to declare their intent to evaluate district hospitals' annual eye health performance.
Supported partner facilities financially to organize eye camps/surgical camps by revising project budget (with the approval of Seeing is Believing).
Intensified IEC/BCC approached.
Requested a one (1) year no cost project extension – extending project end date to 31st December 2015 instead of 31st December 2014.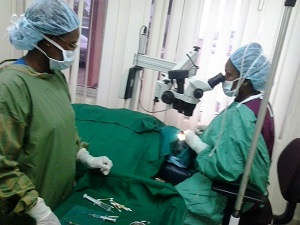 After implementing the above strategies, we are very pleased to report that partner facilities that had not performed a single eye operation for the period January 2011 to December 2013 (i.e. Manhyia Hospital and Ga South Municipal Hospital etc) have started operating and are now on track to meet their targets.
With the current rate of progress, the Ghana SiB team is confident that come 31st December 2015, the surgical targets under this project will be attained.

Emmanuel Kumah
Country Manager, Ghana, OPERATION EYESIGHT UNIVERSAL
KumahE@operationeyesight.com