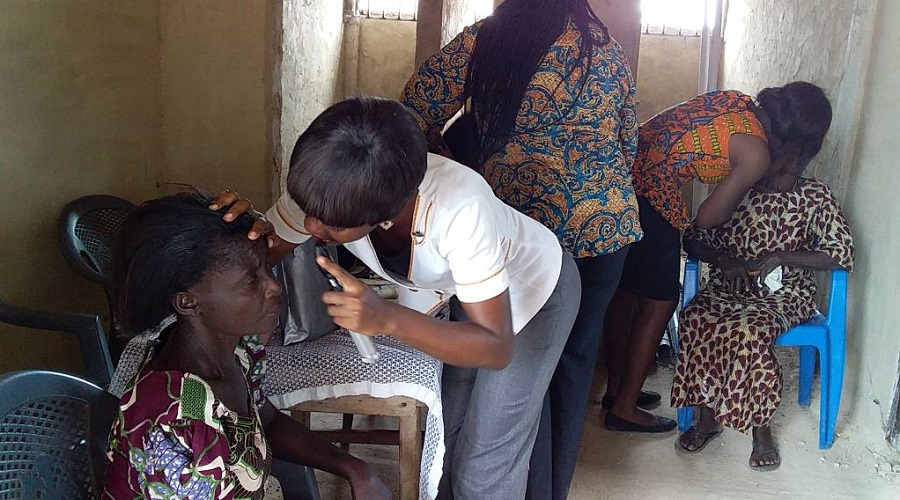 On Tuesday 26 June 2018, members from Onwe, Worakese, Amankwadee and Akokofe communities gathered at the Akokofe Community Centre for the annual community durbar. The durbar serves as a platform for communities to discuss and implement developmental projects. The durbar was attended by chiefs, community leaders, representatives from the District Health Directorate, healthcare workers, school children and over 300 community members from the four communities.
The four communities make up one of 32 Community Health Programme (CHP) zones within Bosomtwe District in the Ashanti region. At this year's durbar the communities invited a team of eye health workers to provide health education as well as eye screening services to the community members.
In his welcome address the chief of Akokofe, Nana Baahyie Osiakwan II who also served as the chair for the event, was particularly happy that eye health was, for the first time, a key issue at the durbar. He was optimistic that community members will learn new and better ways to handle eye health conditions.
Angela Asante, an ophthalmic nurse from the St. Michaels Hospital, a secondary facility supported by the Orbis Seeing is Believing project, led a team of other eye health workers to provide eye health education to the audience. Through demonstrations she addressed a wide range of cultural beliefs held by local community members on eye health. She also highlighted the need for community members to seek early treatment for various eye health conditions to prevent avoidable blindness. The team also fielded questions from the community members on a wide range of eye health issues.
Following the health education, the team provided eye screening for over 120 community members as well as several school children. The School Health Education Program (SHEP) Coordinator who received training in basic eye health through the Orbis Seeing is Believing partnership, contributed to the day by screening the school children who attended the event. Those identified with conditions that require further treatment were referred to the St. Michaels Hospital.
The representative from the District Health Directorate applauded the initiative and offered the district health administration's support to ensuring that communities within the district have access to good eye health care. This aligns with the district's drive to ensure that community members live healthy lifestyles and have access to quality care.
The chiefs and other community leaders urged the communities to take eye health as seriously as they would other health conditions. The community leaders also expressed their willingness to include eye health in all health-related activities within their community as they were convinced of the value of maintaining good eye health.