Europe Region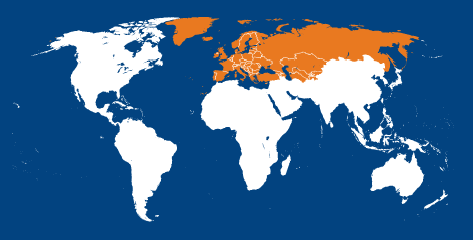 Overview
The European region is very diverse, with a wide range of countries, including developing, middle income and fully industrialised nations, wherein over 230 languages are spoken.
Data on the prevalence of blindness and visual impairment is sparse. 2010 data from the World Health Organization suggests there are 3m blind and 28.7m severe + moderate visually impaired people across the 53 countries making up the Europe region.
The overarching aim of our work in the region is to improve the coverage of eye health and prevent blindness across Europe. IAPB Europe works within IAPB's Global objectives:
Disseminating ideas and information on successful approaches to eye care delivery.
Increasing awareness of needs and solutions so that one country may be assisted by the experiences and resources of another.
Advocating for the implementation of the new Global Action Plan for universal eye health 2014-2019 at country level.
IAPB is also one of the founder members of the European Coalition for Vision. The draft constitution of the Coalition will be reviewed at the next meeting of the coalition on 12th June 2013. The coalition has contracted the European Public Health Alliance to conduct a review of the policy and legislative opportunities in the EU for eye health advocacy and the identification of key organisations for potential relationships.
Click here to access a library of documents, reports, guidelines and articles on eye health in Europe. We are working to populate this area with useful resources and links, so watch this space and alert us of any resource you would like to see here.
VISION 2020 Workshops 2016 – Europe
Also read: How is Europe progressing towards Eye Health? A case study.
Regional Chair
Prof. Janos Nemeth – profile / email
Co-Chairs
Prof. Petia Vassileva, Bulgaria
Dr. Serge Resnikoff, Geneva
Dr. Ivo Kocur, Geneva
Dr. Alexander Doga, Russia
Prof. Jan Keunen, Netherlands
Country Listing
Albania / Andorra / Armenia / Austria / Azerbaijan / Belarus / Belgium / Bosnia and Herzegovina / Bulgaria / Croatia / Cyprus / Czech Republic / Denmark / Estonia / Finland / France / Georgia / Germany / Greece / Hungary / Iceland / Ireland / Israel / Italy / Kazakhstan / Kyrgyzstan / Latvia / Lithuania / Luxembourg / Malta / Monaco / Montenegro / Netherlands / Norway / Poland / Portugal / Republic of Moldova / Romania / Russian Federation / San Marino / Serbia and Montenegro / Slovakia / Slovenia / Spain / Sweden / Switzerland / Tajikistan / The former Yugoslav Republic of Macedonia / Turkey / Turkmenistan / Ukraine / United Kingdom / Uzbekistan