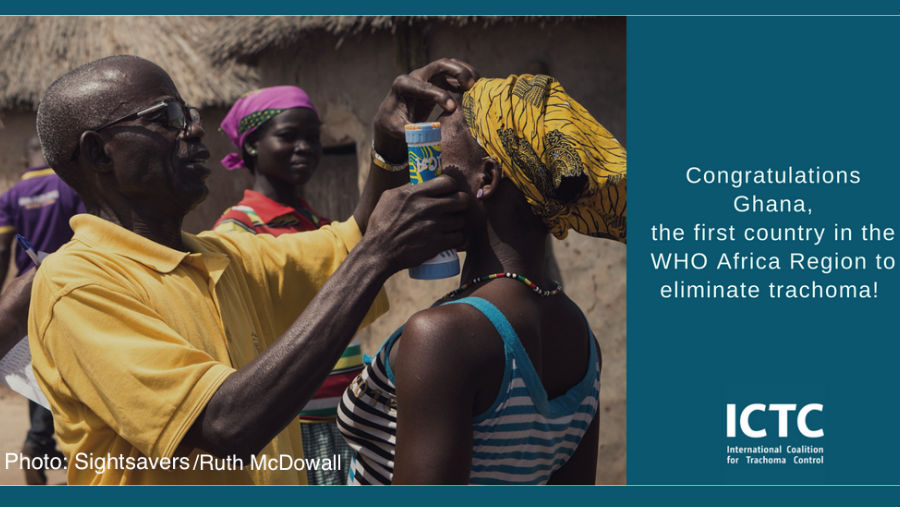 The World Health Organization (WHO) has validated Ghana for having eliminated trachoma as a public health problem, two decades after the World Health Assembly resolved to tackle the leading infectious cause of blindness. It is the first time a WHO African Region country has been validated for eliminating trachoma as a public health problem. The announcement comes the day after a commitment from Pfizer, the manufacturer of Zithromax (azithromycin) to extend their donation programme for the antibiotic until 2025, if required, to finish the task of global trachoma elimination.
"It's been 20 years since the global health community committed to eliminating trachoma worldwide" said WHO Director-General, Dr Tedros Adhanom Ghebreyesus. "Although there's more work to do elsewhere, the validation of elimination in Ghana allows another previously heavily-endemic country to celebrate significant success."
Ghana is the first country in WHO's African Region to achieve this milestone.
"This success is a result of a tremendous amount of hard work by thousands of health, education and development workers to improve the lives of individuals with trachoma and their families", said Mr Kwaku Agyemang-Manu, Ghana's Minister of Health. "The Government of Ghana is enormously grateful to its staff and to the many partners  that have joined forces with us to eliminate trachoma and the cycle of poverty it triggers."
The global trachoma community learnt a lot from Ghana's experience. Innovations pioneered there include the use of height-based dosing for azithromycin; systematic active case-searches for trichiasis involving door-to-door, community-by-community fieldwork; and, intensive counselling of patients found to have trichiasis with an offer of immediate surgery, which produced considerable improvement in surgical uptake.
"Success in Ghana is a result of the strong leadership at all levels, implementation of the full SAFE strategy right from the outset, strong collaboration between Ghana Health Service and its many partners, and integration at lower levels of programme delivery, including community ownership," said Dr Matshidiso Moeti, WHO Regional Director for Africa. "Hearty congratulations are deserved for this achievement."
"The elimination of trachoma in Ghana is significant, not only because it is the first WHO African Region Country to achieve this status, but it means that all WHO regions have now eliminated trachoma in at least one country" said Serge Resnikoff, Chair of the International Coalition for Trachoma Control. "Ghana's elimination of trachoma demonstrates the effectiveness of the SAFE Strategy when implemented appropriately and provides important lessons to other countries working towards elimination."
Ghana's official elimination comes less than one month after Nepal was validated for trachoma elimination and the 20 year anniversary of the adoption of World Health Assembly Resolution 51:11, calling for the global elimination of trachoma.
Ghana is the seventh country to eliminate trachoma alongside Oman, Morocco, Mexico, Lao People's Democratic Republic, the Kingdom of Cambodia and Nepal. 41 countries are still known to require interventions to eliminate the disease.
Read more on the ICTC website.
Read more on the WHO's website.