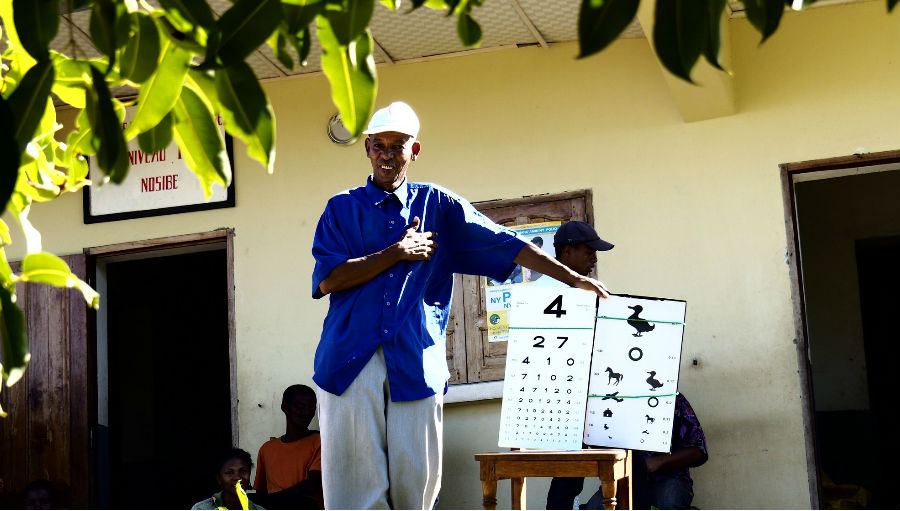 The first half of 2020 was dominated by the initial response to the COVID-19 pandemic which spread across the globe.  IAPB Africa reached out to various stakeholders within the region to see how they were impacted and what kinds of support would be useful.
What we learned was that, in Africa, most countries enforced lockdowns and, in terms of health, redeployed the majority of their health capacity to the Coronavirus response effort.  The eye health sector too was impacted with programmes suspended and workers shifted to the frontline.  This meant that outreach programmes and school health programmes were also suspended and only emergency eye health services were underway.  Patients were encouraged to stay away from hospitals, unless absolutely necessary, to avoid increasing their risk of exposure.
Active health workers faced the daunting task of operating in a potentially high risk environment and the demand for personal, protective equipment (PPE) was immediately apparent.  Further to this, clinical staff were unsure of which procedures were safe to perform.  Due to the close contact nature of eye health interventions, eye health workers needed to take extra precautions to ensure both their and patient safety in terms of minimising the chance of transmission.
IAPB Members too reported to have been heavily impacted.  Many offices have had to close due to lockdown restrictions, leaving staff to work remotely.  Members took stock of what couldn't be done in lockdown and then determined what could still be done as well as looked to figure out longer term impacts of operating in a COVID-19 world.  With a focus on safety first in all projects and facilities there has been the development of contingency and emergency plans, delivery of PPE and the publication of best practices guidelines.  Members continue to work closely with partners to ensure that broader health and eye health priorities are addresses during this challenging time.  Please click here for a full summary of feedback from IAPB Members and National Eye Care Coordinators active in Africa in relation to the Coronavirus COVID-19 situation.
National Policy Review
The integration of eye health into broader national health planning was identified as a key priority area by members during the IAPB Africa Annual Planning Meeting in February 2019 in Accra.  As an action point to support Integration of Universal Eye Health Care into national policy it was agreed to undertake policy reviews in selected countries to develop an understanding of policy across various government departments to determine where eye health features within policy and where there is potential for it to feature to in order to implement Universal Eye Health Care.
In this regard IAPB Africa is developing an analytical framework which can be applied in countries to assess progress, gaps and challenges as measured against government systems' requirements. The objective is to get information on the current systems in place, and how well eye health is integrated across all systemic platforms and also to obtain data on coverage, quality and impact. In addition, the framework will seek to determine whether eye care services are included in Universal Health Coverage "qualifiers" e.g. Package of essential services, list of essential medicines, National Health Insurance schemes etc.
The framework will look to identify the primary policies and programmes in the health sector relevant to eye health and also highlight health policy gaps and implementation challenges.  In order to assess the position of eye health across all government department the framework will also look beyond simply the Department of Health to uncover opportunities for mainstreaming interventions into non-health social and economic development policies and programmes.  The WHO's Global Action Plan requires that non-health sectors such as water, sanitation, education, road safety and social development be part of the development of, and be recognised as integral role players in, the national blindness prevention and visual impairment programme. These sectors are required to mainstream eye heath as a cross-cutting developmental issue.
The result will be a situational analysis of a country which identifies where eye health features within national policy and whether or not this policy is being implemented.  Further to this it will identify policy gaps across government departments, including the non-health sectors.  This clearer picture will reveal where policy ought to be strengthened to enable Universal Eye Health Coverage to be achieved and provide advocates with strategic targets in the pursuit of this goal.  Further to this, the tool will provide guidance on developing an advocacy strategy to address these gaps.
A working group is now reviewing the draft document to ensure that it, and the process, is robust and fit for purpose.
ECSA HC Eye Health Expert Committee
The East, Central and Southern Africa Health Community Eye Health Expert Committee is a collective of representatives from ministries of health, eye health experts and partners engaged in eye health care services in the ECSA Region, with the aim of reviewing resolution on Equity and Access to Eye Health in the ECSA region, approved at the 69th Health Minister's Conference session held in February.  The Committee is currently developing an action plan to realize the recommendations of this resolution as well as deliberating on draft recommendations to be delivered at the Directors Joint Consultative Committee meeting.
WOC2020 Virtual®
In June, around 150 participants visited the IAPB stand in one of the exhibition halls of the WOC2020 Virtual®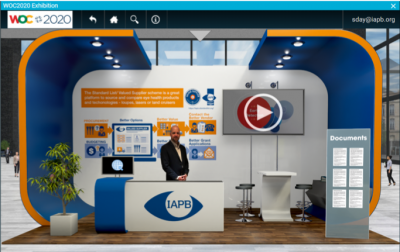 Platform.  Visitors to the stand were able to engage directly, in real time, with either Philip Hoare, IAPB's Procurement & Standard List Manager, or Simon Day, IAPB Africa Programme Coordinator.  In addition, were the opportunities to view a video on the World Health Organization, World Report on Vision and download the Standard List Value Supplier Pack, The IAPB Africa Plan 2021 and the IAPB Membership Benefits pack.  Thanks to the technology in place we have been able to reach out and engage with each of those who visited the stand.
Image on top: Man from Madagascar helps volunteers to examine the eyesight. The doctor's office is settled under mango tree. Nosibe, Madagascar by Michal Prokurat