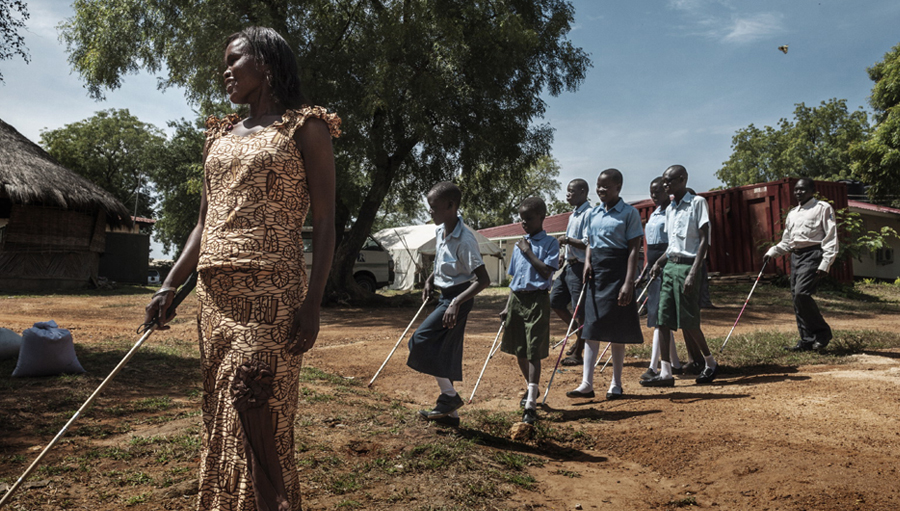 CBM and Sightsavers warmly welcome everyone to a free interactive workshop on "Leaving no-one behind: strengthening inclusion and equity in eye health" on 3-4 October, prior to IAPB Council of Members Meeting, in Dar-es-Salaam, Tanzania.
We will share evidence based background information and experience of making eye health services more inclusive and accessible for people with disabilities and other marginalised peoples.
We will share tools and practical approaches, and hear case studies outlining both successes and challenges from several organisations working in different contexts, including Disabled People's Organisations.
We will hear from people with lived experience of disability and other marginalisation, concerning their interactions with and recommendations to eye care and other health services.
There will be interactive sessions and ample opportunity to discuss key barriers and proposed solutions for strengthened access to eye health services, with quality outcomes, in a range of contexts.
We will discuss seeking best outcomes for people with long term vision impairment, for whom medical intervention is not an option.
Background

We note that people with disabilities comprise 15% of the world's population, with 80% living in low to middle-income countries[1]. People with disabilities are among the poorest and most marginalised people globally, and are more likely to experience poorer health outcomes than their peers without disabilities[2].
Furthermore we note that in communities with a high prevalence of disability, there are generally many other factors contributing to marginalisation including: poverty level, gender, HIV status, ethnicity, religious group, being a refugee, being a survivor of disaster, level of education, and the intersection of these and other factors.
We need to learn from each other to ensure we "leave no-one behind".
[1] https://sustainabledevelopment.un.org/post2015/transformingourworld
2 https://www.who.int/blindness/actionplan/en/
For further information please email David Lewis, CBM on dlewis@cbm.org.au or Dr Imran Khan, Sightsavers on imkhan@sightsavers.org
Thursday 3rd – Friday 4th October 2019
Hyatt Regency, Dar es Salaam, Tanzania
Free attendance –Click here to register by 18 September 2019 (Please act now! Places are limited)
Image on top: A teacher and her pupils as they walk just outside their classrooms during recess at Rajaf School for the Blind/Photo credit: Luca Catalano Gonzaga