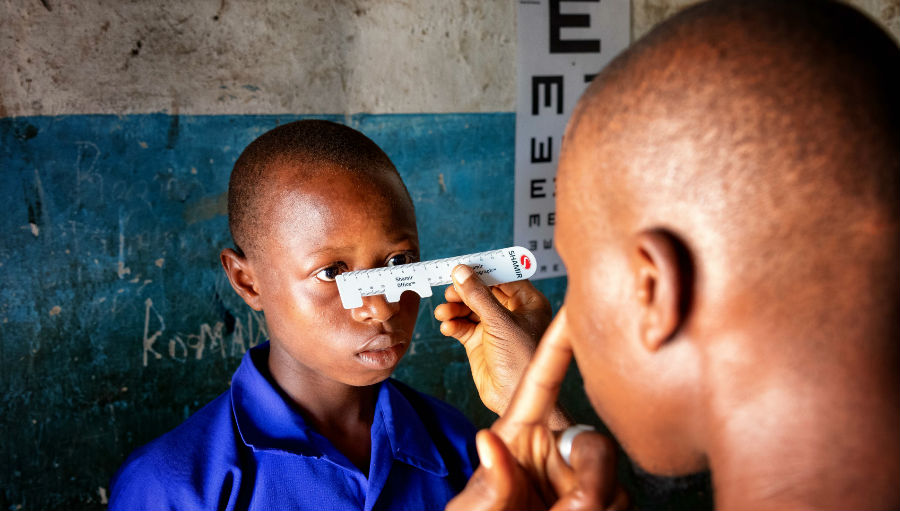 Press Release:
Vision Aid Overseas is proud to announce the launch of a U.S. Agency for International Development (USAID) funded School-Based Child Eye Health Programme in Sierra Leone. This boost to eye health comes along in addition to another new phase of work begun in 2019, which focuses on primary eye care.
Good vision and a good education go hand in hand. Research shows that 80% of what a child learns is processed through their visual system. Yet there are 12 million children around the world who are struggling to see the blackboard or their books right now, because they don't have access to a pair of glasses.
At Vision Aid Overseas (VAO) we believe every child has a right to sight and to an education which is why we are motivated to reach 159 rural schools, 988 teachers and 44,000 children with improved eye health in Kenema district of the Eastern Province.
Working in partnership with the Ministries of Health and Sanitation and of Education in Sierra Leone, the new school-based programme will run for two years from 2019 and aims to: train teachers in vision screening and eye health care; screen children and teachers and provide eye tests and glasses when necessary; raise awareness about eye health and the importance of glasses; and strengthen the health system by improving links and referrals from the primary level through to district hospitals and beyond, and by strengthening supply chains to make sure glasses and equipment are available in the long term.
Once a child is identified as having an eye condition, the school will be visited by a mobile eye unit with a team of eye care professionals form the district hospital, and any children who require glasses will be provided with them free of charge.
From similar work in Ethiopia VAO found that 73% of children who received treatment in the form of glasses or minor surgery showed improvements in their school performance.
Sierra Leone is an extremely poor country with only four qualified optometrists and 10 optometry technicians for a population of over seven million people. Civil war and the more recent Ebola outbreak have also had a devastating impact on life in Sierra Leone.
As such eye health has not been treated as a priority, which has led to: low numbers of trained professionals; poor eye health care infrastructure and equipment; and low uptake of referrals between different health facilities.
Alfred Yambasu, Country Director, VAO, Sierra Leone, said:
"This will be the USAID Childhood Blindness Programme's first ever programme in Sierra Leone and Vision Aid Overseas' first time working alongside USAID. We are excited to begin work on this vital programme to ensure more children can see and study in Sierra Leone".
Anne Buglass, Director of Programmes, VAO, said:
"We are really excited about launching this new school eye health project in Sierra Leone thanks to support from USAID's Child Blindness programme, made possible with the generous support of the American People.  Not only will thousands of children and teachers benefit directly from this work, but a pilot like this will provide valuable learning that will enable us to work with the government to get eye health integrated into the school system so that in future all children in the country will be screened and provided with spectacles or other treatment, allowing them to thrive in school"
This new programme further extends VAO's reach and impact in Sierra Leone. To date, we have transformed access to eye care services across the Eastern Province of the country over the past five years. With the nearest eye care services based over 300km away in the country's capital, Freetown, the initial phase of our programmes focussed on increasing access to eye care services within the Eastern Province. We've established four Vision Centres, trained over 15 Optometry Technicians, screened over 55,000 people, and ensured 2,937 people received the spectacles they needed.
The Clothworkers' Foundation has been supporting Vision Aid Overseas in Sierra Leone since 2013 and it recently agreed a second phase of support until 2021. The next phase of our programme will focus on primary eye care. This will now greatly increase awareness and demand for our services amongst local communities in Kenema, the capital of the Province. We plan to train primary healthcare workers to screen patients' eyes at local health units across Kenema and will embed these new services into the existing primary health care system to ensure they are available for everyone in the long term.
Nicola Chevis, CEO Vision Aid Overseas said:
"We are extremely grateful for The Clothworkers' Foundation's incredible support to our programme in Sierra Leone over the past five years. Together, we have established Vision Centres and trained local eye care workers to deliver the services in the Eastern Province, which didn't have any optometry services prior to our partnership.  We are excited to work together in the next stage of the programme to ensure that as many people as possible are aware of our services and for eye care to be integrated with the Primary Health Care package so that the services can be sustained for many years to come."