Orbis just wrapped its three-week Flying Eye Hospital project in Addis Ababa, Ethiopia celebrating their 20th anniversary of sight saving work in the country.
The Federal Ministry of Health and the Ophthalmological Society of Ethiopia partnered with the international NGO to train local eye care teams in adult and pediatric surgery techniques, hosted by the Department of Ophthalmology, Addis Ababa University at Menelik II Referral Hospital and sponsored by the Alcon Foundation. This project marks the fifth visit to Ethiopia by the Flying Eye Hospital over its 20-year tenure.
Orbis set up its very first programme office in Addis Ababa in 1998, and joined local partners in:
introducing modern cataract surgical techniques
training the first generation of eye sub-specialists
introducing pediatric eye care by opening the first three child-friendly centers at Menelik Hospital, and in the cities of Hawassa and Gondar
developing and launching the Eye Bank of Ethiopia, and
leading the consortium for a trachoma elimination project, initiating SAFE (Surgery, Antibiotics, Facial cleanliness and Environmental improvement) strategy and rural eye care infrastructure.
"Over the last two decades, through extensive collaboration and coordination with the Federal Ministry of Health, OSE and our incredible network of local and international partners, we have contributed to building a vastly improved eye health system across the country, saving the sight of millions of Ethiopian people," said Bob Ranck, President and CEO of Orbis International and IAPB Board Trustee.
Over the course of the three-week project, Orbis aimed to train 335 eye care professionals (including doctors, nurses, biomedical engineers, anesthesiologists and allied health professionals), screen and examine 250 patients, and perform surgery on 122 people.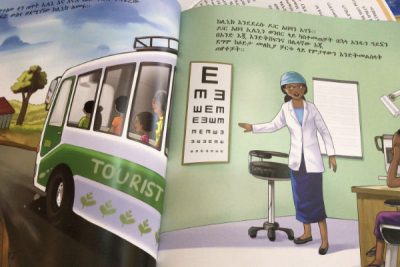 The training project coincided with World Sight Day, which Orbis celebrated in-country by launching the latest version of The Singing Tree, a free, illustrated storybook designed to encourage schoolchildren struggling with their vision to seek help. The book, by author Kenneth Youngstein, is set to be distributed by 5,000 school eye health clubs and children to raise awareness around visual impairment in Ethiopia.
This book launch is just one way that Orbis aims to continue meeting the needs of the over 1.6 million Ethiopians still living with blindness, and another 3.8 million living with low vision (according to the first national blindness, low vision and trachoma survey in 2006).
See the interactive timeline of our work in Ethiopia here: https://www.orbis.org/en/where-we-work/africa/ethiopia/ethiopia-timeline?geographicregion=www